Should Leicester have a University?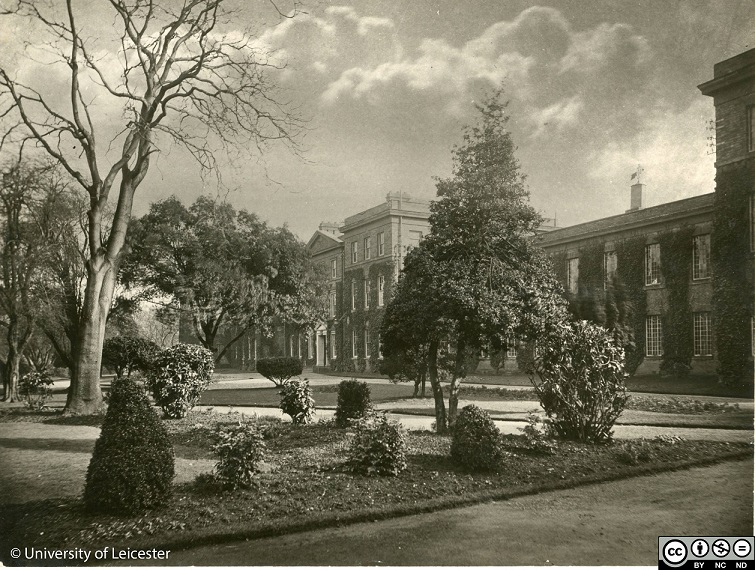 A Working Men's College had been founded in Leicester in 1862, but there was continuing public discussion as to whether University education should be offered in addition.
In the 1880s, the Rev. Joseph Wood, Rev. James Went, and Mr J D Paul all suggested to the local Literary & Philosophical Society that College education was needed in the Town and that an Educational committee should be formed.
In the early 1900s, the Leicester Education Committee looked into the possibility of a Municipal College based on the two Newarke colleges already existing. Meanwhile, the Working Men's College opened a new building, Vaughan College.
In 1912, Dr Astley V. Clarke revived the discussion of the 1880s, arguing that the Lit & Phil could provide University level education, and its members should support the case for having a University in Leicester.
Discussion followed, including in the local press, right up until the First World War broke out, when the idea was put on hold.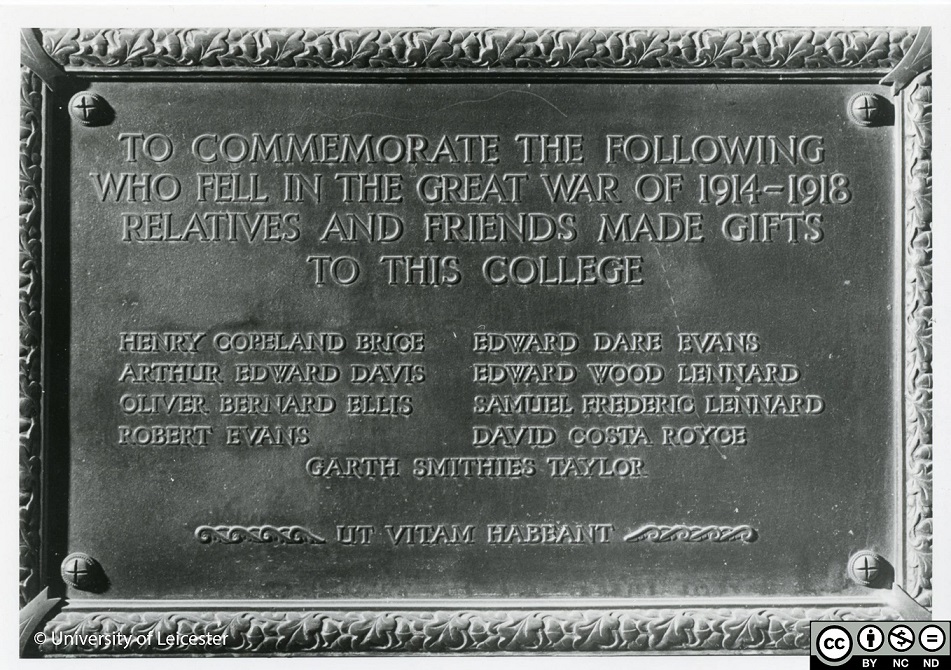 A War Memorial University?
Discussion picked up again in 1917. An article in the Leicester Daily Post of 14 November 1917, entitled 'The Best War Memorial,' was probably written by its editor, W G Gibbs. The article suggested a University College as a fitting war memorial for the county. It received supportive letters from the public in response.
W Gibbs, on 26 November 1917, himself pledged £500 if the idea of a war memorial University were taken forward. A good deal of debate ensued in the local newspapers. A long meeting took place on 8th March 1918 between supporters of the University scheme. This was attended by Jonathan North, Dr Astley Clarke, Major Brockington, Councillor Wilford, Mr Gibbs, Dr F W Bennett, Mr Harry Peach, Rev. James Went, the heads of both Wyggeston schools, Miss Sarah Heron, Mr Frank Salter. At this meeting, those present decided that the best war memorial for Leicester would be an East Midlands University College, in partnership with Nottingham. They decided to form a committee to further this aim, which was to be chaired by Dr Astley Clarke.
Proceedings moved ahead steadily, and much support was received from local authorities, civic officials, educational representatives and local benefactors. It was decided to launch an appeal to make the venture possible. This was opened immediately after the Armistice on 11th November, 1918. The Leicester Daily Post of 13th November announced pledges of £100 from Dr Astley Clarke, and £500 as a "thank offering for peace" from Dr Bennett.
Gathering momentum
The appeal was widely publicised and gathered momentum, but a turning point was reached in 1919 upon the death of Dr J E M Finch, who had bequeathed £5,000 to the Corporation of Leicester for the University scheme on condition that this offer was taken up within a year.
In addition, something at that time unannounced, Thomas Fielding Johnson had purchased the site of the former 5th Northern General Hospital (and former Asylum) at the top of Welford Road and Victoria Road (now University Road). This site had been mooted as a good location for a University venture, but Fielding Johnson kept his purchase secret until announcing to the City and all involved that he had purchased the site with the intention of gifting the £40,000 estate to the scheme (to also include boys' and girls' grammar schools).
Meanwhile, at a meeting on 1st April 1919, held in the Council Chamber, it was reported that Dr Bennett had said "this was a proud day for Leicester. It was the crowning of their educational scheme, and there ought to be no going back." After Thomas Fielding Johnson publicly announced his gift (on 4th April 1919), things seemed to be falling into place, and donations continued to come in.
Thomas Fielding Johnson intended that the site would provide accomodation not just for the new University College, but both Wyggeston Schools (Boys' and Girls'):
This land, which adjoins the Victoria Park from North to South, will provide ample space for all the requirements of the three Institutions, which, in conjunction, might form an effective architectural group, and a/ Peace Memorial worthy of our ancient Borough.

Extract from the letter from Thomas Fielding Johnson to the Mayor of Leicester announcing his gift of the former Hospital and Asylum site.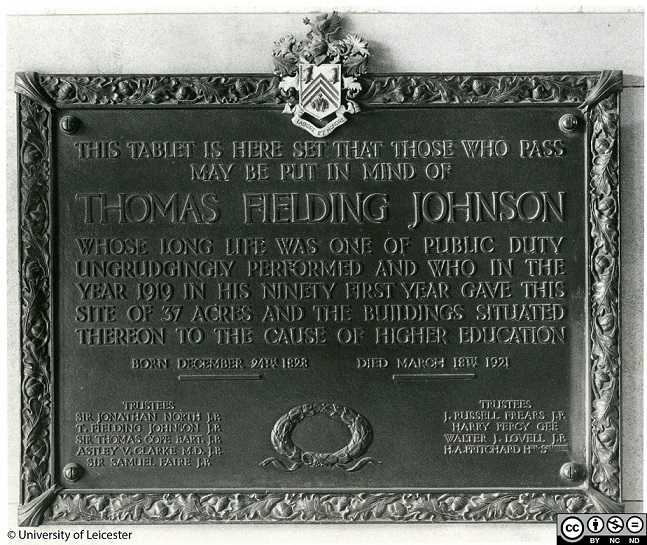 Growth of the appeal
Large donations came in quickly following Thomas Fielding Johnson's announcement. £20,000 was pledged by Mr H Simpson Gee, £10,000 by Messrs. Freeman, Hardy & Willis, £5,000 from Alderman Jonathan North, £5,000 from Sir Samuel Faire, £5,000 from Mr J E Faire, and another £20,000 anonymous donation later revealed to have come from Mr William Tyler as a memorial to his father. The appeal attracts national attention.
The committee that formed elected Sir Jonathan North as Chairman, Dr Astley Clarke as Vice-Chair, Mr H Simpson Gee as Honorary Treasurer and Mr Armitage as Honorary Secretary. Also appointed were Mayor Councillor W J Lovell, Councillor Kelly, the Rev. James Went, Miss Heron, Mr J W Goddard, Mr E E Lowe, Mr W G Gibbs, Mr J T Boulter, Mr C S Bigg, Mr J A Hopps, Dr Sevestre, Mr Frank Moore, and a representative from Leicester Trades' Council. The committee also decided to invite the Town Clerk, Colonel C J Bond, Councillor Charles Squire (Chairman of the Museum and Libraries Commitee), the Principals of the Art and Technical Schools, a representative of the Leicester Teachers' Association and a representative of the Adult School Union.
Donations in memory of…
A number of donations were made as thankofferings for peace after the First World War, in memory of casualties, or in memory of other loved ones.
Mr and Mrs Bernard Ellis gave £500 in memory of their son Oliver, who had been in the Royal Air Force.
Mr George A Royce gave £500 in memory of his son who had been killed in the war:
Dear sir, – The project of a Leicester and Leicestershire University is excellent as a War Memorial./ It will appeal to those who have lost dear ones in the war, and also to those whose relatives have been fortunately spared to them./ There could be no better memorial to those who have fallen in the war than to provide facilities for higher education for a new generation, fitting it for the greater tasks of peace./ If the scheme is adopted I shall be glad to give Five Hundred Pounds in memory of my youngest son, Lieutenant David C. Royce, Second Battalion the Leicestershire Regiment, who was killed in Mesopotamia, 7th January, 1916.-/Yours faithfully,/ George A Royce.

Letter from George Royce to the Editor of the Leicester Daily Post, published 4th April 1919.
Who was involved?
We are compiling information on key figures that will soon appear on a new page entitled Our Founders. Please check back soon.
Key Sources
Astley Clarke's Presidential Address to the Literary & Philosophical Society in their Transactions vol. XVII (1913). (University of Leicester Archives and Special Collections, reference ULA/D2/2/1)
Astley Clarke's scrapbook (University of Leicester Archives and Special Collections, reference ULA/D2/1)
Leicester Daily Post, 14 November 1917, article entitled 'The Best War Memorial'
Simmons, Jack., (1958), New University. Leicester: Leicester University Press
Printed letter from Thomas Fielding Johnson announcing his purchase and gift of the site for the University College, 1919. (University of Leicester Archives and Special Collections, reference ULA/FJT2/16b)