Information on some of the students at the University of Leicester in the 1930s.
Students of the Thirties
Students of the 1930s had a new Principal. Arriving in 1931, Frederick Attenborough and his wife Mary, would stay for twenty years.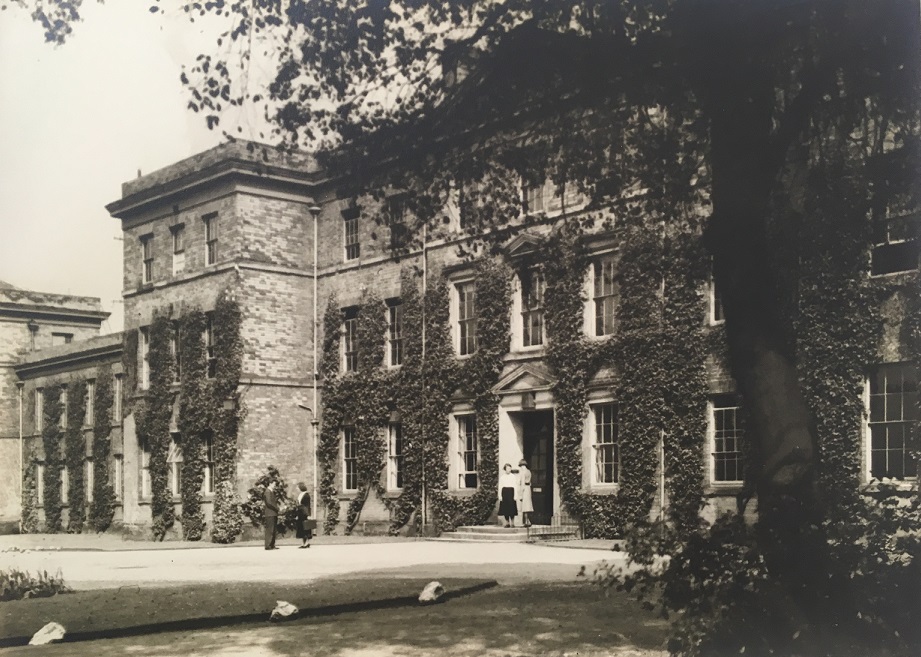 J H Plumb (1930-34)
John Harold ("Jack") Plumb (20 August 1911-21 October 2001), attended Alderman Newton's school in Leicester from 1923-30 and University College Leicester from 1930-34. His student record card shows that he was living in Somerville Road, Leicester, when he entered to undertake the BA Hons History. He had gained the Higher Schools Certificate in 1927. In his first year, he was awarded a prize for Geography, and in his second received a Bennett Senior Scholarship worth £50 per year for three years. In his third year, he served as Secretary of the Students' Union and received the Hons Prize in History. He graduated with 1st Class Hons in the BA History in 1933, and went onto a year of research during 1933-34, winning the West End Prize for History. Finally, he received a London University Scholarship to Cambridge where he went after leaving Leicester.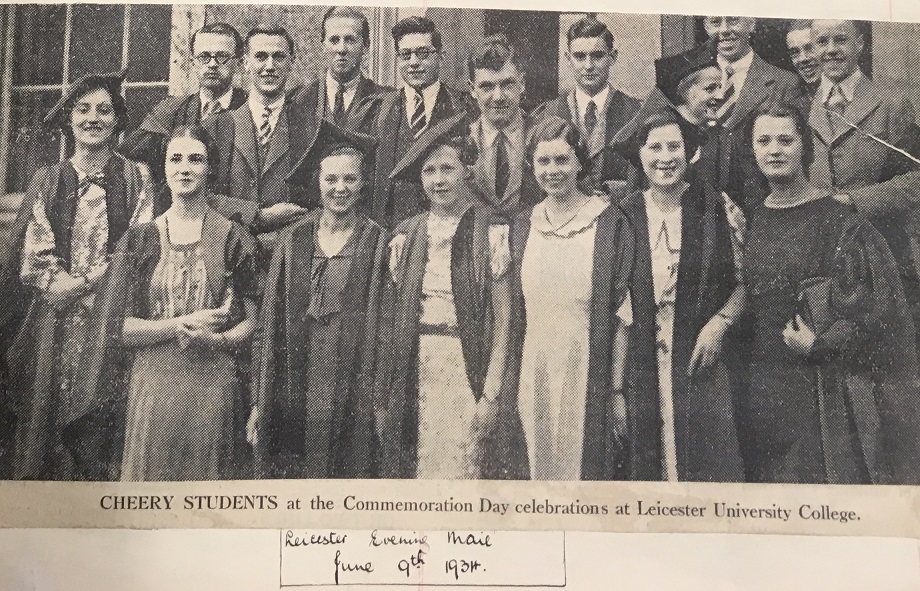 Plumb wrote for the student magazine, The Wave, with one of his contributions reviewed by Dr Collins of the English Department in November 1931 as follows:Mr Plumb is playing about with fireworks because idle or diffident should-be contributors have left him a page to be naughty in. Satan and idle hands again.
Plumb was a Fellow (from 1946) and then Master (1978-82) of Christ's College, Cambridge. He had been Professor of Modern English History there from 1966-74, and then became Emeritus. His career was followed and admired by Leicester thereafter, as can be seen in this newspaper clipping from the Leicester Evening Mail of 1935 that was saved in the University's press cuttings books.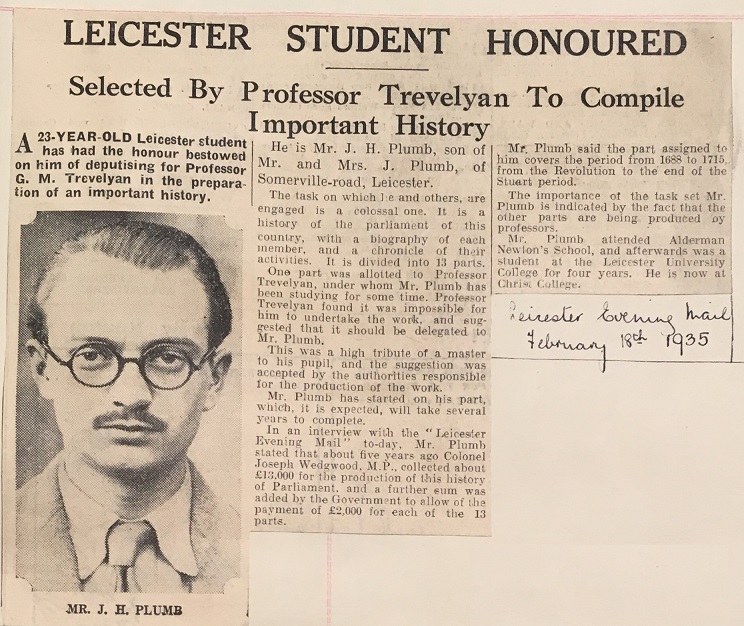 His publications included England in the Eighteenth Century (1950), The First Four Georges (1956), The Renaissance (1961), Death of the Past (1969), Royal Heritage(1977) and Georgian Delights (1980).
See Who's Who entry for J H Plumb at http://www.ukwhoswho.com/view/10.1093/ww/9780199540891.001.0001/ww-9780199540884-e-31027?rskey=EywfOh&result=6
Raymond Birkett (1931-36)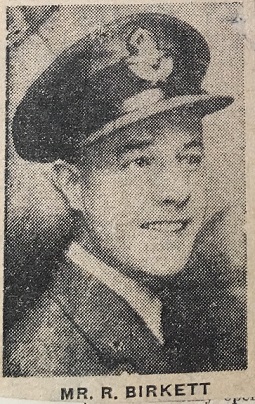 Raymond Birkett was born 13 December 1911. Although we did not know a lot about him other than that he was President of the Students' Union, his student record card is detailed and tells us about a distinguished military career.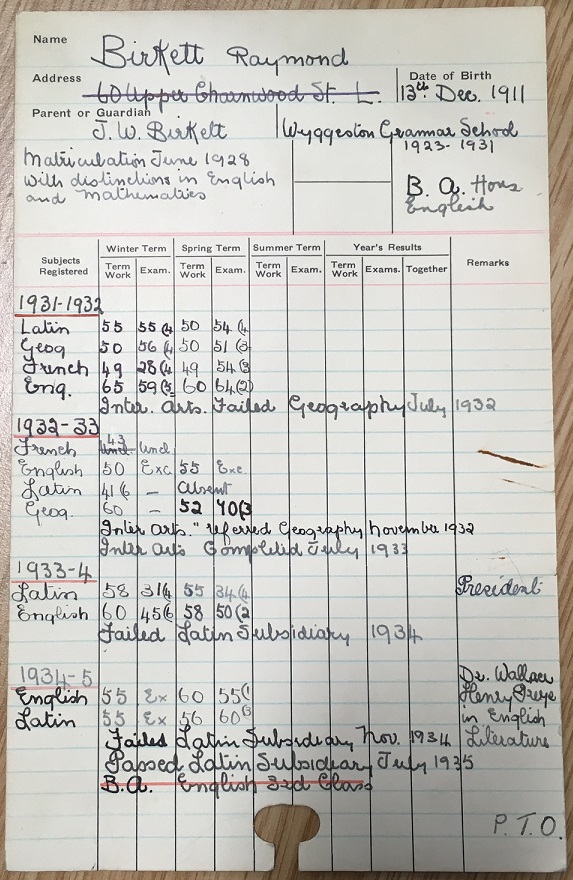 He had attended the Wyggeston Grammar School in Leicester from 1923-31, matriculating with distinctions in English and Maths in June 1928. He entered the Leicester University College for the BA Hons English in 1931. He showed determination by staying on to pass specific subsidiary exams that he had failed on his first attempts in three different years. He was President of the Students' Union in his third year (1933-34), and in his fourth year he won the Dr Wallace Henry Prize in English Literature. He finally graduated with the BA English in July 1936, but stayed on for another year with the Postgraduate Training Department. The clipping from the Leicester Mail 11 June 1947 says he then taught at Melbourne Road School and Lansdowne Road School, both in Leicester.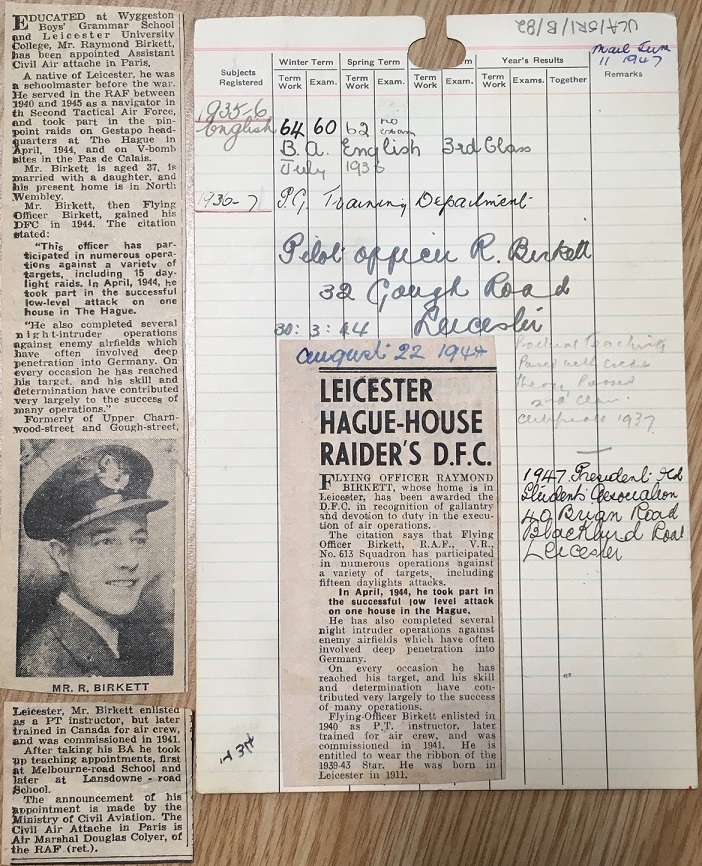 The clippings attached to his student record card refer to his later military career. An unreferenced clipping dated 22 August 1944 says that he still lived in Leicester at that time, and had enlisted in 1940 as a P.T. instructor. He later trained to be a member of air crew in Canada, was commissioned in 1941, and received the 1939-43 Star. By 1944 when the article was written, he was a Flying Officer in the RAF VR No. 613 Squadron. The clipping reports that he won the Distinguished Flying Cross for "gallantry and devotion to duty in the execution of air operations." This included a number of operations, both daylight attacks and night intruder operations at enemy airfields in Germany. Specifically, his DFC was awarded because "In April, 1944, he took part in the successful low level attack on one house in the Hague".
More stories to come…