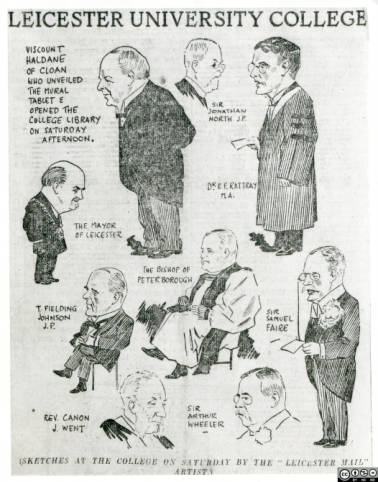 The founding of Leicester, Leicestershire and Rutland College in 1921 was the result of four years of debate, organisation, and fundraising to achieve the goal of establishing a higher education institution in Leicester as what Dr Astley Clarke described as a 'living memorial' to the First World War. An account of the fundraising that took place between 1917-1922 can be found on the Record Office for Leicestershire, Leicester and Rutland website (.docx download). This page contains short biographies and links to longer articles about the significant contributions of members of the local community to founding the University of Leicester. You can also find out more about founding gifts to the College in our articles about in memoriam gifts, gifts in kind, our important arts and crafts furniture, botanical gardens, sports field, pianos, and a 'loving cup'.
Dr Astley V Clarke
Leicester-born Astley Vavasour Clarke (1870-1945) was the son of Dr Julius Clarke of Leicester, medical practitioner and town councillor. He was born in Leicester and educated at Wyggeston School, Oakham School, Heidelberg and Bonn. He graduated in natural science from Caius College, Cambridge and did his medical training at Guy's Hospital. One of Leicester's best known physicians, he was Honorary Physician to the Leicester Royal Infirmary for 34 years where he did pioneering work on X-rays. During the First World War he was active in the Territorial Army and served with the R.A.M.C. He was appointed administrator of the 5thNorthern General Hospital, a territorial force unit occupying the buildings of the former Leicestershire and Rutland County Asylum (the site that subsequently became the University College).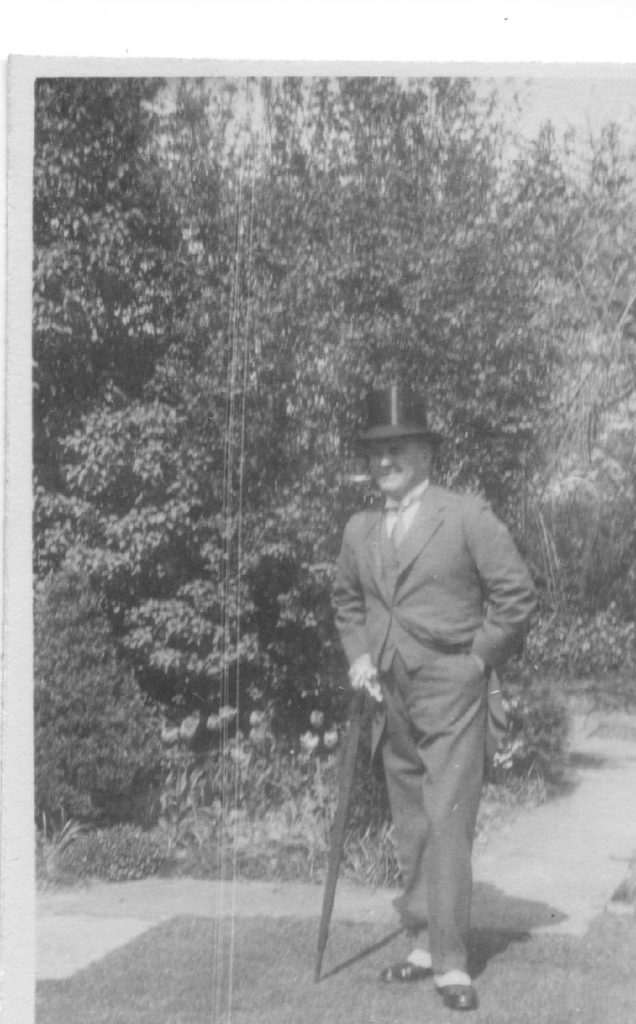 Dr Clarke had ambitions for creating a University College in Leicester before the start of the First World War. In a speech made in 1912 as President of the Leicester Literary & Philosophical Society, he made note of the fact that there were young people in the area who had more than enough potential to succeed in higher education, but did not have the opportunity to do so due to the lack of a local institution. The idea resurfaced in 1917 when an article appeared in the local press advocating a living memorial in the shape of a University College. Dr Clarke made the first donation to an appeal fund he opened on 11 November 2018, a sum of £100. He then led the fundraising campaign from this point forwards, and was Vice-Chairman of the College Council 1921-39 and Chairman thereafter until his death. He was also a Vice-President of the College. The Astley Clarke Papers were used by Professor Jack Simmons in his book New University (Leicester, 1958) and are still held in the University's Archives and Special Collections. Clarke became a City Councillor in 1932 and was also a J.P., Deputy Lieutenant of Leicestershire in 1928 and High Sheriff of Rutland in 1942. In 1956, the first new building to be constructed on campus since its original purchase was named the Astley Clarke building. The building originally housed zoology and botany, but is now home to economics, which is part of the School of Business.
Mrs Ethel Mary Clarke (Poppy Clarke)
Poppy Clarke, nee Gee, (1872-1965) was the eldest daughter of Harry Simpson Gee and Ella Gorham. As Astley Clarke's wife she supported the University scheme. Notably, and despite her shy nature, she managed the Committee for the "Women's Effort" set up with the aim of raising £10,000 for the University appeal through a Grand Bazaar and Fete held in 1922. The local paper applauded her work, saying she had "thrown any amount of quiet, persistent, behind-the-scenes energy" into the endeavour (Leicester Mercury 12th May 1922). Her shyness is perhaps reflected in the lack of photographs of her in the University archives; the reproduced image shown (right) having been taken from the programme for the Bazaar. Poppy was a well-loved figure whose contributions to charity and public life were celebrated. The Bazaar was a great success, raising over £15,000 for the University appeal. For further information see Caroline Wessel, 'Mrs Ethel Mary Clarke ("Poppy" Clarke)'.
Thomas Fielding Johnson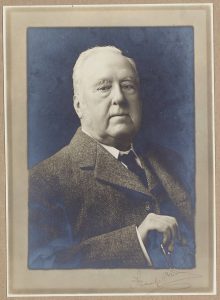 Thomas Fielding Johnson (1828-1921), was born in Mansfield, Nottinghamshire, but attended Nonconformist Proprietary School in New Walk, Leicester, when he was adopted by his aunt and uncle. A prominent member of Leicester society, he inherited his aunt and uncle's family textile business at the age of 24. During his life he became a town councillor, a Justice of the Peace, governor of the Leicester Royal Infirmary, was a member of the Volunteer Rifle Corps, a prison visitor, and served as a special constable. He gained Honorary Freedom of Leicester in 1919. Fielding Johnson was a successful worsted manufacturer, providing yarn for the hosiery trade, and a prominent philanthropist who loved Leicester and was involved in much of its development. In 1919, he secretly purchased the site of the former 5th Northern General military hospital and later donated it to the University cause. The purchase was a site totalling 37 acres, six of which were designated for use by the College, with the remainder for two Wyggeston Grammar Schools (Boys and Girls). The campus remains on this site, and the original building was named the Fielding Johnson Building in recognition of this huge gift. His family home, Brookfield, on London Road, is now a part of the University estate as well, serving as the School of Business. He died in 1921 only seven months before the University opened its doors. His son, Thomas Fielding Johnson Junior, took over playing key roles in the University's development, serving as a Vice-President of the Council for several years. Following his death his daughter presented a selection of valuable books from his library to the College in his memory. See Caroline Wessel, Gift of Mr Thomas Fielding Johnson's Books.
Mrs Agnes Fielding Johnson
Mrs Fielding Johnson, née Paget, (1840-1917), was the second wife of Thomas Fielding Johnson. An active member of the Unitarian Chapel, she was keen on the history of Leicester, and author of Glimpses of Ancient Leicester in Six Periods (1891). She was a governor of Wyggeston School for Girls since its founding in 1878, and was a campaigner for the education of girls. The first female on the management board of the Royal Infirmary she was also an Early member of the Leicester and Leicestershire Women's Suffrage Society. She was also a member of the Leicester Institution of Trained Nurses (providing nursing to the poor) and fought, with the National Council of Women, to get a registration process for midwives. Additionally, she supported the campaign for the first maternity hospital in Leicester – Bond Street Hospital – and a plaque there was dedicated to her for her help.
Sir Jonathan North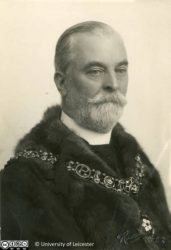 Sir Jonathan North (1855-1939), was one of Leicester's most influential citizens around the time of the University's founding. Born in Rothley, the son of a farmer, he capitalised on going to a private school by going into business in Leicester in the boot and shoe manufacturing business. He became a partner in the successful Leavesley & North firm, and was hand-picked to be the successor to Sir Edward Wood of Freeman, Hardy & Willis. He was a very prominent member of the business community and also took an interest in education and civic life, being on the Leicester Board of Guardians, Belgrave School Board, and becoming a councillor and alderman. Though resisting for years, he accepted the role of Mayor of Leicester throughout the First World War years, and was knighted in 1919 in recognition of his great service. He also founded the North Memorial Homes for veterans and their dependants, in Oadby, just one of the schemes he led after the war. For 32 years he was Chairman of the Leicester Education Committee, and was a pivotal figure in the founding of the University. He made generous donations, and was influential in persuading others to join the cause. He was the University's first College Council Chairman, and remained so for 20 years. Freeman, Hardy and Willis made one of the first large donations to the University appeal, pledging £10,000. He also gave generously to the appeal for the Lutyens war memorial in Victoria Park, and commissioned the two sets of wrought iron gates at the entrances to the park, in memory of his wide, Lady North, who died in 1930.
Lady Kate Eliza North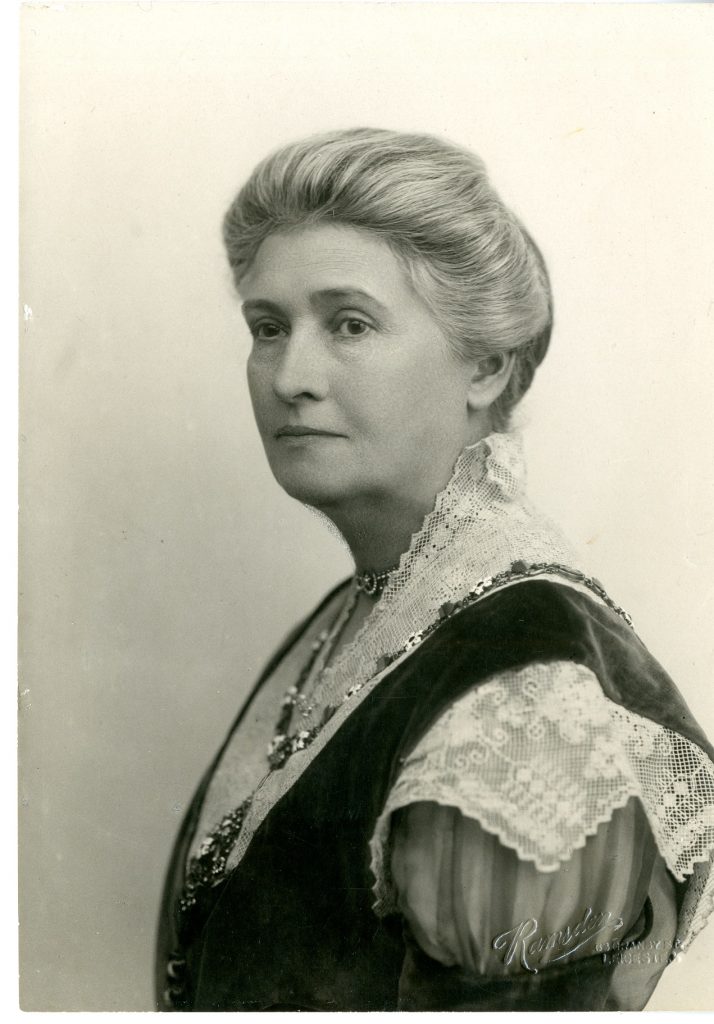 Lady North, nee Trott, (1856-1930), was the daughter of a master plumber from Taunton. In 1879 she married Jonathan North. Throughout the First World War, Lady North made a significant contribution to local activities in support of the war effort. She convened a group of 150 women who met daily in the Mayor's rooms to make and repair cloths for the troops and wounded soldiers, and helped to set up similar working parties across the city. It was reported that by 1916 she had over 4,000 workers producing over 2,000 garments a week and repairing many more. She also organised a committee to provide the sick and wounded with a free meal at Victoria Park Pavillion. Her work during the war earned her the title of the 'Florence Nightingale of Leicester'. During 1921-22 she served as President of the Bazaar and Fete Committee that organised a week-long event that raised more than £15,000 (over £800,000 today) for the University fund. In 1931, Sir Jonathan North presented the ornate gates to Memorial Gardens (now Peace Walk) and Victoria Park to the city in memory of his wife.
Francis Paul Armitage (Borough Education Director)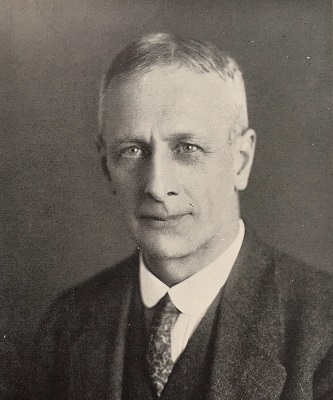 F P Armitage (1875 – 1953) was born in Lancaster and educated at the Royal Grammar School and at Magdalen College, Oxford. After graduating, he was Science Master at St. Paul's School, London and became a house master. While there, he was elected Fellow of the Chemical Society and a Fellow of the Royal Anthropological Institute. In Leicester, he had been Director of Education from 1919-40 (the first to hold this position). He was very active in the movement to establish the University College, and was Honorary Secretary until 1921, when it was officially incorporated.
Dr Frederick William Bennett (1859-1930)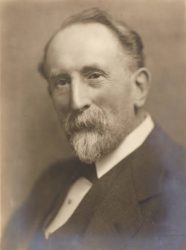 Dr Bennett studied medicine at Owens College Manchester and, wanting to specialise in the new field of laryngology, sought further training in Vienna (as there was little available in the UK). He started his practice upon returning to Leicester in 1889, and set up a throat, nose and ear section at the Infirmary, where he was a surgeon for 30 years. He had numerous strong interests in science, and particularly in Geology. He was president of the geological section of the Literary & Philosophical Society for a long time, published on the geology of Charnwood Forest, and built up a collection of specimens for the local Museum. He was interested in education, being on the School Board and setting up a course for training teachers of basic science. An early supporter of the University College, he gave generously, made donations of books and equipment, and was a member of its Council. After his death, his daughters endowed a £20,000 Bennett Lectureship which, although originally intended for a Geology lecturer, was diverted to the subject of Physics until the Geology Department was founded in 1951.
Annie E Clephan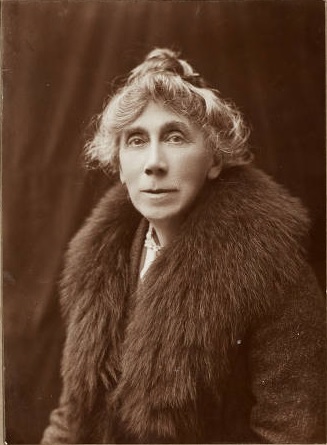 Annie Clephan (1854-1930) was born in Leicester. She was sent to a boarding school at Cossington and then Brook House, Knutsford, Cheshire. An advocate for women's education and women's suffrage, she was president of the Leicester Women's Liberal Association and an executive committee member of the National Union of Women Workers. She was elected a member of the Leicester School Board from 1891-1900. She also co-founded initiatives that aimed to care for and educate special needs girls, including by the opening at her expense of 'Sunneyholme,' a Home for Feeble Minded Girls in King Richard's Road. She had travelled in India, and made this the special interest subject during two of her Presidencies of the Leicester Ladies' Reading Society (which decided to disband after the deaths of Miss Clephan and Mrs Mentor Gimson in 1930). She was President of the Kyrle Society and chaired the Vestry Committee of the Great Meeting on Bond Street. Her father, Edwin Clephan, JP, had been one of the founders of the Leicester Colleges of Art and Technology, and Annie had sat on one of its committees. She also followed suit in a similar role as one of the early supporters and Governors of the University College, eventually bequeathing £200 to it, as well as donating many books to the University Library.
Agnes Archer Evans, (née Kilgour)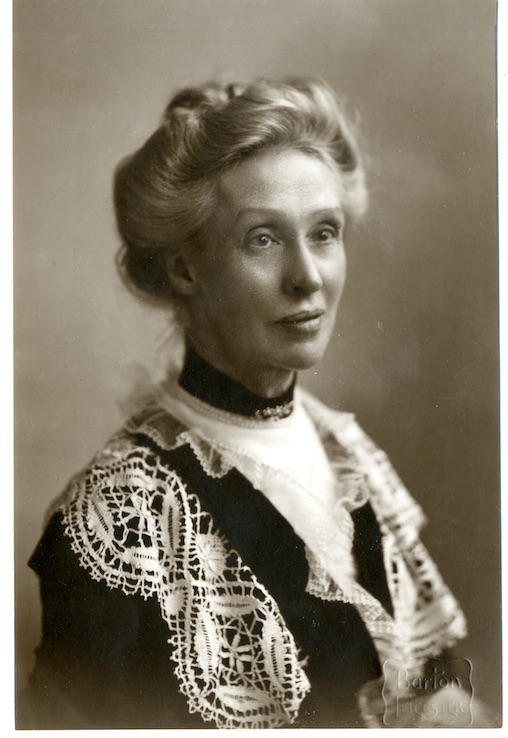 Agnes Archer Evans (1848-1924), née Miss Agnes Archer Kilgour, was born in Tasmania to a Scottish colonial surgeon father but the family returned to settle in Cheltenham. Her active roles in education began there, where she taught at Cheltenham Ladies College from 1876 and had become Headmistress of the Junior School. She then became headmistress of the Belmont House School with Anna Beale in Leicester in 1882. After another period in Cheltenham she returned to Leicester to marry the wealthy corn miller, William Evans, in 1895 and came to live at 6 St Martin's. She was a governor of Wyggeston Girls' School and a teacher at and later governor of Vaughan Working Men's College. In 1887 she became the founding joint secretary of the Leicester and Leicestershire Women's Suffrage Society with Anna Beale, and in 1897 co-founded the local branch of the National Union of Women Workers (later, National Council of Women), later campaigning for the formation of a Leicester Health Society. She was a council member of the Literary and Philosophical Society, and its first female President (women had only been allowed membership from 1887). She was also a member of the local Archaeological and Historical Society. She was an active women's suffrage campaigner and was on the Committee of the Leicester Women's Liberal Association. She supported the founding of the University College and became one of our first Governors. Two of her six sisters donated money to the University College in her memory.
Faire family: John Edward, Sir Samuel; Sir Arthur William; Lady Sarah
From the start of the proposal for a University College in Leicester the Faire family was involved. Although John and Sir Samuel Faire ran a large and prosperous boot and shoe accessories business with branch factories that took them all over the world, and supported a great number of local causes, they still found the time and energy to contribute to the new College, both financially and as Council and committee members. They both lived in imposing residences, John at Evington Hall and Samuel at Glenfield Frith Hall, but the three brothers' philanthropy was at grass roots level, serving their home town – the magistracy, church, adult education, disadvantaged children, health, and in particular the Temperance Movement – as their father had come to Leicester specifically to support the Temperance work of Thomas Cook, the Leicester travel agent pioneer. For further information about the contribution of the Faire family to the early history of the University, see Caroline Wessel, The Faire Family of Leicester.
John Russell Frears
John Russell Frears was a councillor for Leicester's Newton Ward from 1906, became an Alderman and in 1913 was elected Mayor of Leicester. He served on several Borough Committees including those for Finance and Lunatic Asylum Visiting and was on the Education Committee of Wyggeston School for Girls. He was also a Freemason, serving as Provincial Grand Secretary; a Justice of the Peace; and a member of the Leicestershire Archaeological Society. Even before the proposed University College of Leicester, Leicestershire & Rutland opened, John Russell Frears was on its Committee and his bakery company had made a donation. In 1924 he was serving on the College Council and by the following year was even more involved, being a member of the Finance and General Purposes Committee, and on the Court of Governors. He is amongst the nine people listed on a handsome plaque in the entrance porch of the Fielding Johnson Building as a trustee of the Fielding Johnson Trust. His Grandson, Stephen Frears, is a world-renowned film and television director. For more information about the contribution of the Frears family to the University of Leicester see Caroline Wessel, The Frears family.
Harry Simpson Gee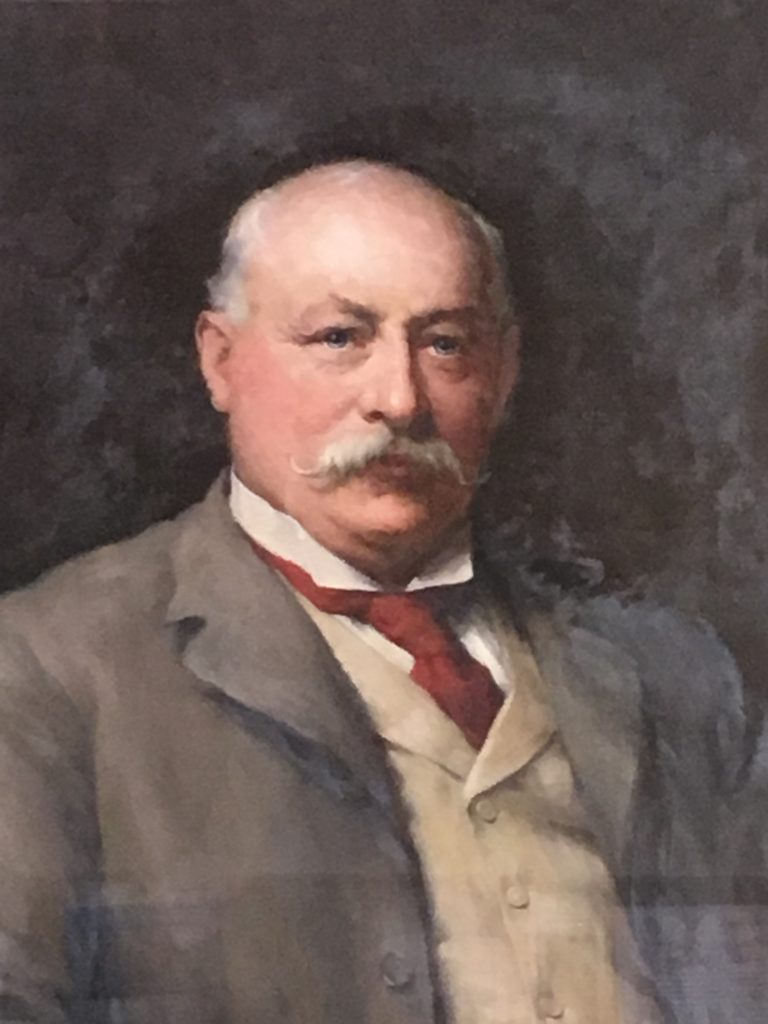 Harry Simpson Gee, (1842-1924), was Chairman of the local company of shoe manufacturers called Stead and Simpson. He supported the movement for a University College from the outset, and was made Honorary Treasurer when the enterprise began in earnest. He was made a life member of the Court of Governors. As an individual and through Stead and Simpson, he made significant financial contributions to the University cause. The largest single monetary gift to the College foundation appeal came in the form of a £20,000 bequest left to the University in his will. All four of Gee's sons: Ernest, Percy, Cecil and Charlie served on the College Council, as well as being prominent benefactors themselves. It is Percy's contributions that came to be most celebrated (including bequeathing his own family home to the University – the Mary Gee halls of residence), and the Students' Union building is named after him. The Annual Report that included a notice of Harry's death reported: "Since the last Annual Meeting of the Court of Governors the College has sustained a very severe loss by the death of its Honorary Treasurer, Mr H Simpson Gee JP. Elected to that office when the scheme for the creation of the College was first launched, Mr Simpson Gee freely placed his exceptional ability and experience in financial matters at the disposal of the College Council and its officers, and he continued to hold office until his death. He was one of the signatories to the Articles of Association under which the College was incorporated, and he was a liberal subscriber to its funds. The Governors will share the regret felt by the members of the Council at Mr Simpson Gee's demise, and will desire to place on record their sincere appreciation of the conspicuous service he rendered the College in the responsible office which he so ably filled."
Read Caroline Wessel's article to find out more about the significant contribution to the University of Percy Gee.
Walter George Gibbs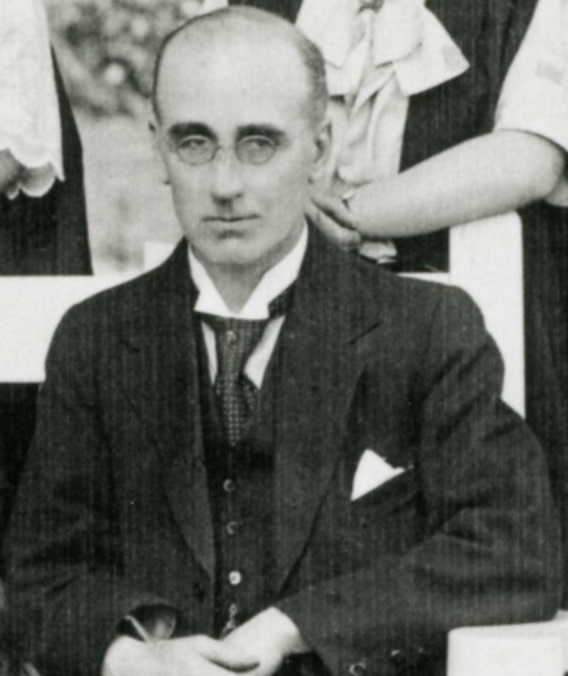 Mr W G Gibbs (1872 – 1929) was one of the first of the University's staff members. At first Honorary and then paid as Secretary, he bore the burden, single-handedly, of all the University College's administration and more. He was born in St Albans and attended King Edward VI's Grammar school there. He became a journalist and moved to Leicester in 1894/95, being promoted from roles as reporter, sub-editor and chief sub-editor of the Leicester Daily Mercury, and then to the post of Editor of the Leicester Daily Post (from 1914, succeeding Angus Galbraith). He was Chairman of the Finance Committee and a member of the Vestry at the Great Meeting in Leicester, and a member of the Rotary Club. During the First World War, he founded and was honorary secretary to the Leicester and Leicestershire War Hospitals' Committee, and successfully negotiated with Government for the removal of duty paid on cigarettes and tobacco supplied by voluntary organisations to wounded troops. Gibbs strongly supported the movement to establish the University, pledging £500 towards the cause in late November 1917. He was invited to become General Secretary to the University in a formal capacity from April 1920, and accepted. On Friday 22 November 1929, after a prolonged period of taking the strain of College disputes, family illness and insomnia and depression, Gibbs took ammonium sulpho-cyanide and was found severely ill on the floor of the Chemistry lab by the Honorary Photographer, R Warden Harvey, and died in the Royal Infirmary from the poisoning the next day. An Inquest into his death concluded that he died of "Suicide whilst of unsound mind." Press cuttings included many tributes to his life and service, one saying "he was a man of affairs, with a profound knowledge of the city and its ways, a wielder of influence for good, and an earnest supporter of intellectual advancement." (ULA/PCB1, p.100, unspecified clipping). The Annual Report for 1929-30 records that Mrs Gibbs donated a portrait of her late husband to the College. They noted their loss in the report: "As was reported verbally at the last meeting of the Governors, the College has sustained an almost irreparable loss in the death of its first secretary, the late Mr. W. G. Gibbs. His devotion to the interests of the College was whole-hearted, and he spared himself neither time nor trouble in his services in its behalf."
Sydney Ansell Gimson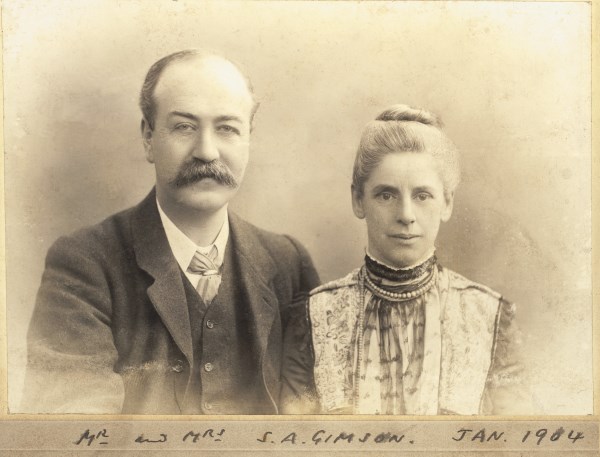 Sydney Ansell Gimson (1860-1938) was a director of Gimson & Co., manufacturers of engines, boilers, builders' ironware, and machinery for the boot and shoe, elastic web and brewing industries. His younger brother, Ernest, was the renowned Arts and Crafts architect and furniture designer. He was a passional advocate for education, serving on the committees of Wyggeston Grammar School, Leicester College of Technology, and Leicester School of Art. He was greatly interested in the proposed University College of Leicester, Leicestershire and Rutland, expressing support as early as December 1917 in a letter to the Leicester Daily Post. In April 1919 Sydney, along with about sixty others, attended the first public meeting for the proposed University College. From 1920 he was on the College committee and its Court of Governors and in 1922 he and his wife gave a joint donation of £500 to the University College fund. At the large-scale fundraising Bazaar of 1922, the Edinburgh Stall was unique in being staffed entirely by one family – the Gimsons – thirty-six of them in all. One of their items on sale was a garden seat – which over-tired visitors gratefully made use of. He was active in a range of other local organisations, including the Desford Industrial School and Leicester and County Saturday Hospital Society. However, the Gimson family is best remembered as the principal founders of the Leicester Secular Society. For a full biography see Caroline Wessel, 'Sydney Ansell Gimson (1860-1938).
Joseph Wallis Goddard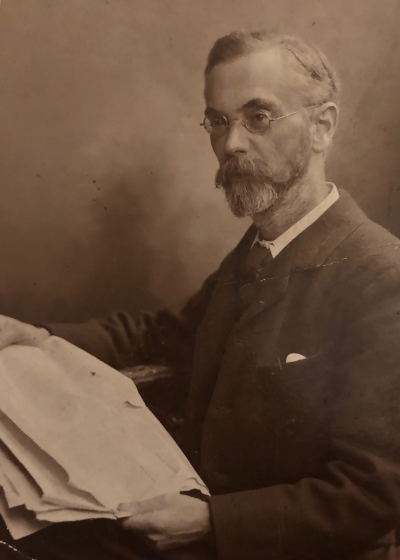 Joseph Wallis Goddard (1852-1927) was an enthusiastic and generous early benefactor of the new University College, both financially and by serving on its various committees. He served on a number of public bodies, including the Leiceter Board of Guardians, Leicester School Board, and Town Building Committee. He was also an active worker in the Temperance Movement and a subscriber to the Leicester Charity Organisation Society. Already well into his sixties by the end of the First World War, Goddard made a substantial contribution to founding the University. He gave two donations totalling £5,000, was involved in the earliest discussions about a University College, signed the Memorandum and Articles and served on the Court, Council and various Committees. He also served on the Finance Committee, Buildings Committee, Botanical Gardens Commitee, and the Hostel Committee. For further information see Caroline Wessel, 'Joseph Wallis Goddard (1852-1927)'.
Thomas Hatton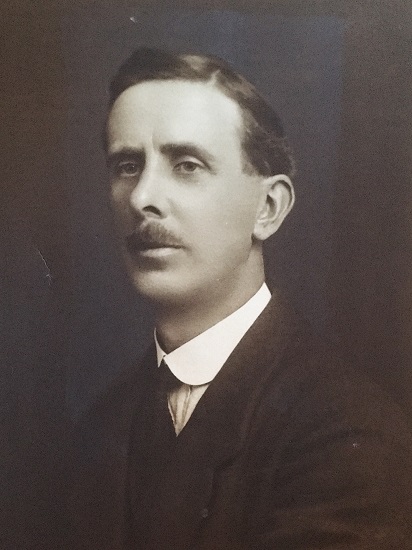 Thomas Hatton (1876-1943) was born in Manchester. An interesting man, he moved to Leicester as a teenager and worked his way from being a junior clerk in a corset factory to owning a boot-manufacturing business of his own; Messrs. T. Hatton & Co. He made substantial contributions to the local sporting sector, working as a boxing promoter and helping to build the Leicester greyhound stadium. One of his private passions was for collecting rare books. Using his knowledge gained in the boot trade, he innovated a new method of bookbinding using special glazed goat skin. He produced a catalogue of his books, which is now in the University Archives. In a most generous move, he donated his large topographical collection to the new University's Library in December 1920. This consisted of over 2,000 volumes, some of them rare and valuable. Included was a set of Nichols' History and Antiquities of Leicestershire, Throsby's Selecte Views in Leicestershire, and first and second editions of Burton's Leicestershire. At the time, his collection was described in the newspapers as "the second best private collection in the country." He gave a further 29 volumes in the 1927-28 year. Thomas went on to become an expert on the works of Charles Dickens. The College Council voted unanimously to name his collection 'The Hatton Topographical Library.' Hatton served on the Library Committee from the foundation, and on the University College Sports Field Sub-Committee. In the University's latter history, it set up a position named Hatton Professor of English Local History. This has been held by such figures as W G Hoskins, Joan Thirsk, and A M Everitt. Thomas' collection remains accessible to students, staff and visitors in the University Library.
Duncan and Elizabeth Henderson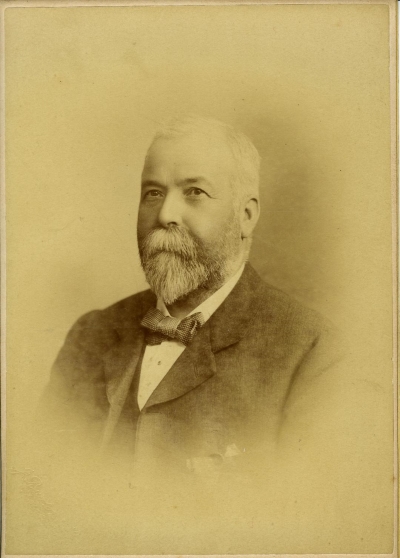 The notebook kept by Dr Astley Clarke recording pledges of financial support towards founding the University College records the gift of £500 on 1 April 1919 from Mr Duncan Henderson as a 'thankoffering' from himself and his wife, Elizabeth, for the safe return home from war of their two sons. Duncan Henderson (1851-1931) was a successful Leicester manufacturer in the boot and shoe trade who founded the business D. Henderson and Sons in Leicester in 1880. In 1906 he was living with Elizabeth, his second wife, and family at 5 Salisbury Road, the future home of the University of Leicester's Centre for English Local History, but by 1911 had moved to an elegant house with grounds in Glebe Road, Leicester. The two sons referred to in Clarke's notebook were Roland Augustus (1881-1953) and John Gilbert Henderson (1884-1954). For more information about the Henderson family and Roland and John Gilbert's military service, see Caroline Wessel, 'Duncan Henderson (1851-1931) and Elizabeth Henderson (1848-1928)'.
Harry Hardy Peach (1874-1936)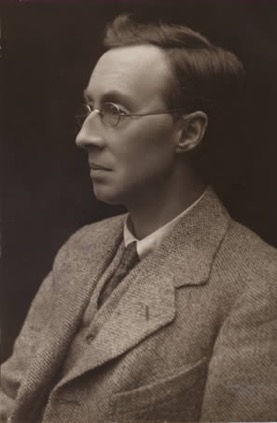 Harry Peach was an enthusiastic supporter of the University College, giving over 1,600 books to the library and making a number of other generous donations. He was a member of the Court of Governors, College Council, Academic Committee, and many other College committees. Miss Rhoda Bennett, Librarian at the time of Peach's death in 1936, recalled that he was, '… slightly eccentric and, perhaps hoping to induce a little interest in music, was seen from time to time to enter the Library, set up his music stand within the sacred precincts and to play gaily on some kind of wood wind instrument. He was so interested in this,' she commented, 'that I did not remonstrate, but thanked him for coming.' Peach is commemorated today in biennial Harry Hardy Peach Lecture, a highlight of Leicester Literary and Philosophical Society's lecture programme, and the naming of the Harry Peach Law Library in the Fielding Johnson Building. For further information see the full biographical article on Harry Peach.
Mary Florence Rich
Mary Florence Rich (1865-1939), was born in Weston-Super-Mare and attended Haberdashers' Aske's School, Hatcham (an Independent school established in 1875), and Somerville College, Oxford (one of the first women to be admitted to sciences, in 1884, with the help of a Clothworker's College scholarship). She finished her Honours in Natural Sciences (Chemistry) in 1887. She taught at Howell's School, Llandaff, the Ladies' College, Grantham, Roedean School, Sussex, and then was headmistress of Granville School in Leicester (from around 1906 to 1922). During her time as headmistress, she had in her leisure time pursued research in her chosen subject – botany (in fact, algae) – in Leicester from around 1903, and published on the topic. When a meeting was called in Leicester by the town's Mayor, Sir Jonathan North, to discuss having a University College in the town, Miss Rich was one of two women present along with eighteen men (ULA/D2/1, f. 4v). She went on to become a subscriber to Leicester, Leicestershire and Rutland College (predecessor to the University), and a member of the Court of Governors and the Botanical Gardens Committee. She later went back to research work at Queen Mary College, London, which resulted in a series of papers on freshwater algae of Africa, for which she was made a Fellow of the Linnean Society (1926).
Walter Sargant
In 1921 the University College Council appointed a representative of Rutland County Council (R.C.C.), in order to affirm its name of 'Leicester, Leicestershire & Rutland University College'. He was Mr Walter Lee Sargant (1866-1956), Headmaster of Rutland's Oakham School (1902-1929), who was an Alderman and served on the R.C.C.'s Education Committee. He remained on the University Council for many years and was able to bring his considerable experience of education to the newly formed College. For more information on Walter Sargant's life and career, see Caroline Wessel, 'Walter Lee Sargant (1866-1956).
William Tyler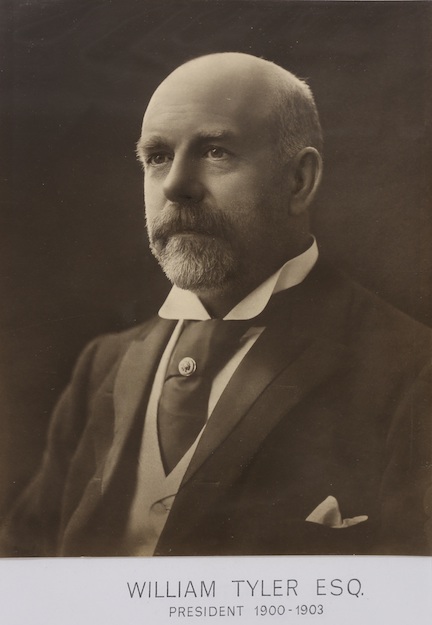 In May 1921 three Leicester brothers presented a £20,000 gift to the University College, to establish a Faculty of Commerce in memory of their late father, Mr William Tyler, founder of their prosperous hosiery business, Wm. Tyler & Sons of 31 King Street, Leicester. The income from the endowment was to pay for the salary of a Faculty of Commerce Principal and fund some commercial student scholarships. William Tyler (snr.) (1845-1906) was born in Queniborough and educated in Leicester. He founded his own hosiery and glove business and was joined in partnership by his three sons: Alec (1875-1930), William Edgar (1876-1921) and (Horace Charles) Sydney (1879-1946). William Edgar died the year the University College opened, but his brothers both played a significant role in its governance: Alec was on the Court of Governors, the College Council and the Botanical Gardens Committee; Sydney was also on the Court and the Council, and in 1938 was elected a Vice President. However it was William Edgar's widow, Mrs Jeannie Tyler BA (1877-1936), who maintained the strongest links with the College, serving on its Council, its Court, and the Ladies and Hostel Committees. For further information about members of the Tyler family and their contribution to the University, see Caroline Wessel, 'The Tyler family of Leicester'.
Miss Gertrude H M M Vincent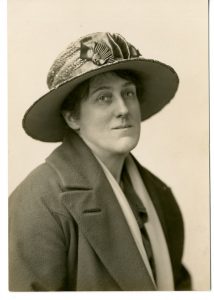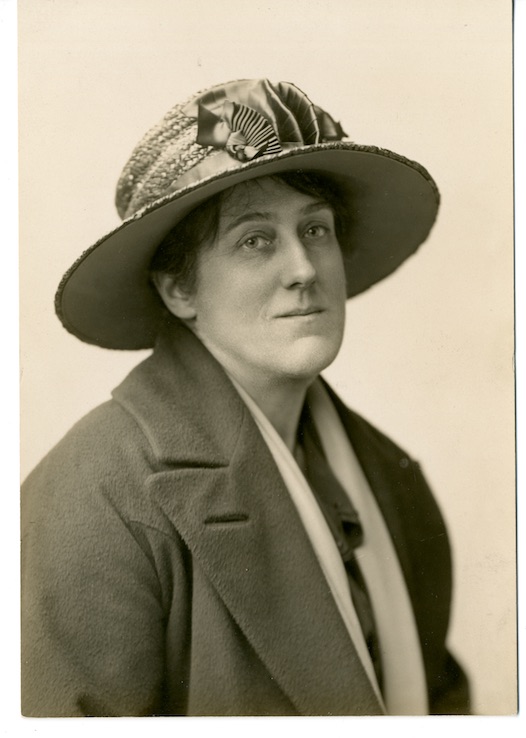 Gertrude Helen Vincent (1877-1965) was the daughter of Sir William Vincent and had acted as Mayoress during his term. She was a member of many local societies, including the Leicester Ladies' Reading Society, which she joined in 1904, was Secretary to in 1906-08, 1913-14, 1921-22 and 1928-29, and President of in 1909-10. She was appointed as the Honorary Secretary for the women's committee formed to raise money for the University College appeal by hosting a grand bazaar and fete. "She has inherited much of her father's grip of affairs and organising power, and it is safe to expect that under her guidance the Women's Committee will make a success of the bazaar and garden fete which it has undertaken for next year." (Newspaper clipping from July 1921, in ULA/PCB2 p.19). She also arranged a puppet show in 1929. She was a Vice-Chairman of the College Council from its first year and for many to come. She was long-serving and dedicated on many of the College's committees. In 1932 she wrote A History of the Leicester Ladies Reading Society, 1869-1930. This book was produced and presented to the University College, and remains there today in the Special Collections of the Library.
Sources
Details of primary and secondary sources used in researching and writing the biographies on this page can be found on the References page.