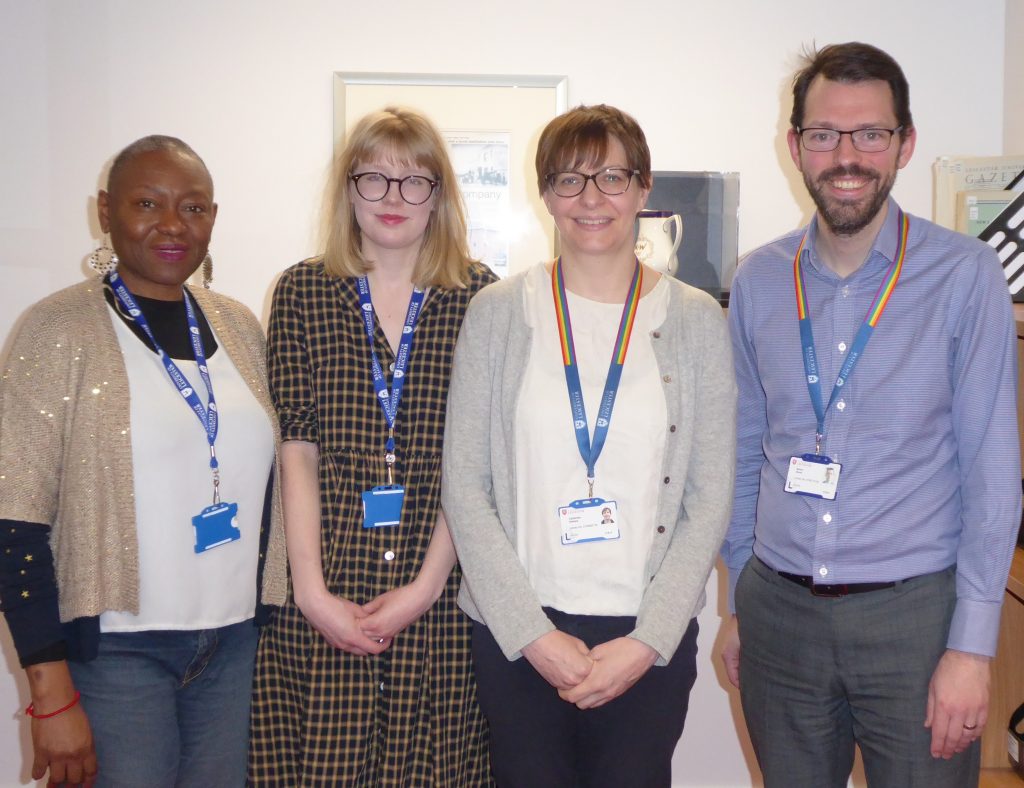 From left to right: Dr Yewande Okuleye, Research Associate; Charlotte Stokes, Engagement and Outreach Adviser; Vicky Holmes, University Archivist; Dr Simon Dixon, Head of Archives and Special Collections.
Dr Yewande Okuleye:
I am the Research Associate on the 'So that they might have life' heritage project.
Within my role, I guide volunteers through the primary historical sources in the Archives and Special Collections. Here, we embark on a journey of discovery, to find nuggets of historical accounts. We are hoping to spotlight the lesser known histories, which will extend our existing knowledge, about the early history of the university.
My role also involves providing learning opportunities for volunteers to engage with archive and historical research, oral history and heritage interpretation. Hopefully, we will co curate a series of creative events which illustrate both the journey, and our discoveries. We look forward to sharing these insights with the university and the wider community.
Charlotte Stokes:
I'm Charlotte, the Engagement and Outreach Adviser on the 'So that they might have life: University Heritage Project'. My role involves supporting volunteers who are participating in the project, as well as organizing activities and events throughout the project.
Vicky Holmes:
I'm Vicky, the University Archivist. My role in the project is to support the Archive strand, and I'm really looking forward to seeing these papers become better packaged and easier for all to access! Thank you in advance to all our volunteers.
I manage the institutional archive here, so work with our records manager to bring records in from across the University, as well as negotiating with external depositors; I accession and catalogue records, manage the reading room and oversee enquiries and am trying to get to grips with digital preservation, so we can care for our digital archives as well as our paper ones in the years to come!
Dr Simon Dixon:
I'm Head of Archives and Special Collections, and Project Director for 'So that they may have life'. I've been fascinated by the history of the University and its campus ever since I arrived in Leicester in 2012, and am excited to see what our volunteers will discover during the So that they may have life project. I manage the Archives and Special Collections team, which includes the Unlocking Our Sound Heritage Midlands Hub, also funded by the National Lottery Heritage Fund.