The contribution of Sir Herbert Marshall and William H. Russell, researched and written by Caroline Wessel
In December 1921 the Leicester, Leicestershire and Rutland College Annual Report stated that two grand pianos had been given to the new University College by the two principal piano and music dealers of Leicester – Sir Herbert Marshall & Sons Ltd and William H. Russell & Son. Their shops were grandly known as 'piano salons', where they sold sheet music, records and pianos and as impresarios promoted prestigious concerts with famous soloists. However, they were very different types of men and there was considerable competition and rivalry between them in a number of ways.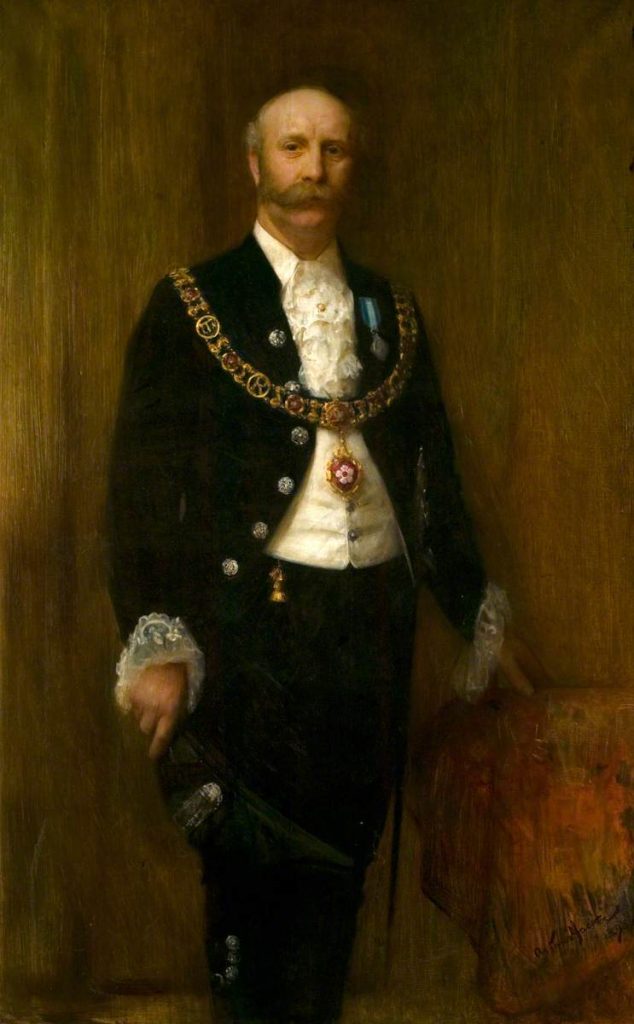 Sir Joseph Herbert Marshall (1851-1918), in addition to running the successful music business of Sir J. Herbert Marshall & Sons, was also a prominent Leicester citizen. From 1888 he was a town councillor and was Mayor of Leicester in 1897, the year of Queen Victoria's Diamond Jubilee. During his Mayoralty he raised £10,000 (in 2017= £820,492) for the Leicester Royal Infirmary Jubilee Fund, for which in 1905 he was rewarded with a knighthood. A china Jubilee Mug bearing images of Marshall, his wife, and the Queen records his proud year of office. In 1911 Sir Herbert's two sons, Ernest and Herbert, joined the firm, so it would have been them who selected and organised the gift of a piano to the University College in 1921.
Herbert Marshall started piano production in 1875 and was a local pioneer of the hire-purchase system. His name can still be seen in Leicester today over his old shop in Rutland Street. By 1907 Sir Herbert had opened a branch in fashionable Wigmore Street, London, named Sir J. Herbert Marshall & Rose. Mr Rose left in 1909 and the same year Marshall entered into a contract with an American business that allowed his firm exclusive representation of the Angelus, an early type of piano player mechanism . The Marshall business in Leicester and London traded successfully throughout the twentieth century and was known for building highly durable, well-made pianos, often using very lavish woods and cabinet designs, including those suitable for tropical climates.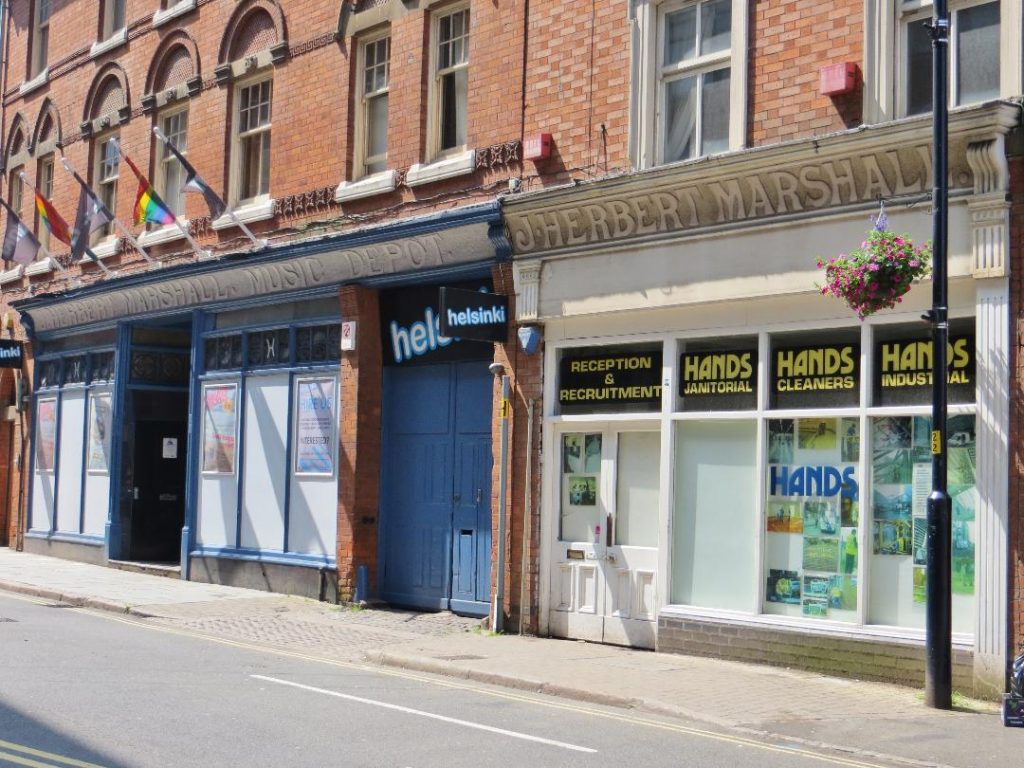 In 1886 Marshall founded the Leicester Philharmonic Choir in order to provide a suitable local chorus and orchestra to support the eminent vocal soloists he brought to Leicester. In 1897 for his second well-attended subscription concert, he commissioned the prolific local composer Colin McAlpin (uncle of Minnie Carryer, see our website Early Students) to compose an opera King Arthur for the Leicester Phil to perform. Marshall was the Society's musical director and its 'sole pecuniary' – thus benefitting from box office profits – but was also its generous benefactor right up until the time of his death.
In 1885 William (Billy) H. Russell (dates unknown) – known as rather a rough diamond – started selling second-hand pianos and harmoniums from his home in Saxe-Coburg (now Saxby) Street, Leicester, where the business prospered. By the 1920s it was known as Wm. H. Russell & Son with a shop, the City Piano Salon, based at 7 London Road. Billy was assisted by his son, George Karl Russell (1888-1960), known as Karl, who was passionate about music and the driving force behind the founding of the Leicester Symphony Orchestra. According to Sam Dobson, LSO Archives, Karl 'arranged countless concerts for Leicester audiences and was an enormously extravagant man who moved among celebrities'.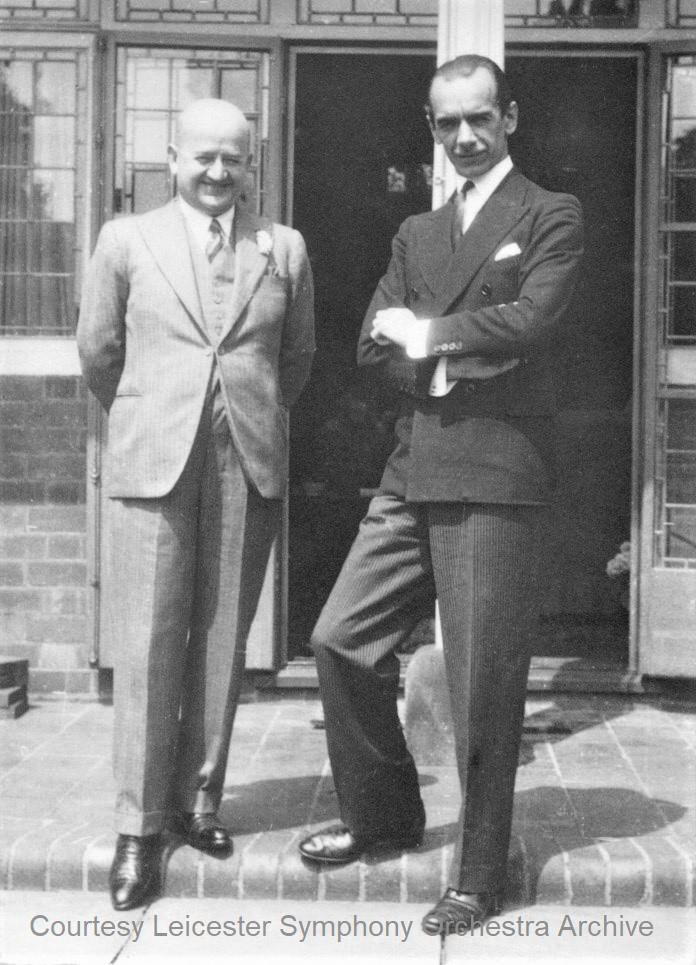 When in 1921 a young Melton Mowbray organist named Malcolm Sargent scored a tremendous success in Leicester with a first performance of his own composition, as Dobson explains, 'it was clear from the audience's enthusiasm and even adulation that Sargent was someone with mass appeal; for the Russells a business opportunity too good to miss and an effective way of fighting the dominance of business rival J. Herbert Marshall'. In fact Marshall and Russell both made offers to Sargent, but it was the attraction of setting up and conducting his own orchestra that decided Sargent in favour of Russell.
Dobson records that 'Four Russell Subscription Concerts featuring Dr Sargent were arranged for the following season' that helped to launch the conductor's illustrious career. Following the tremendous success of the concerts, Russell and Sargent decided 'to build a full sized [local] symphony orchestra to give regular concerts … An essential part of the plan was to enlist Grace Burrows, recognised as Leicester's outstanding violinist, as leader. She would also help manage the new orchestra, that was to be called Leicester Symphony Orchestra'. Its first concert was a huge success and the LSO quickly became established as one of Leicester's greatest musical assets, with Miss Burrows as its leader.
By the age of twenty Grace Burrows (1893-1981) was already regarded as the best violinist in Leicester. She played in several orchestras and had around forty pupils, for whom she ran a Pupils' Orchestra and published books of violin exercises. When LSO was established she held auditions for its string players and, if Sargent were absent, conducted the orchestra herself. Keen to encourage women musicians, she also led and sometimes conducted the British Women's Symphony Orchestra.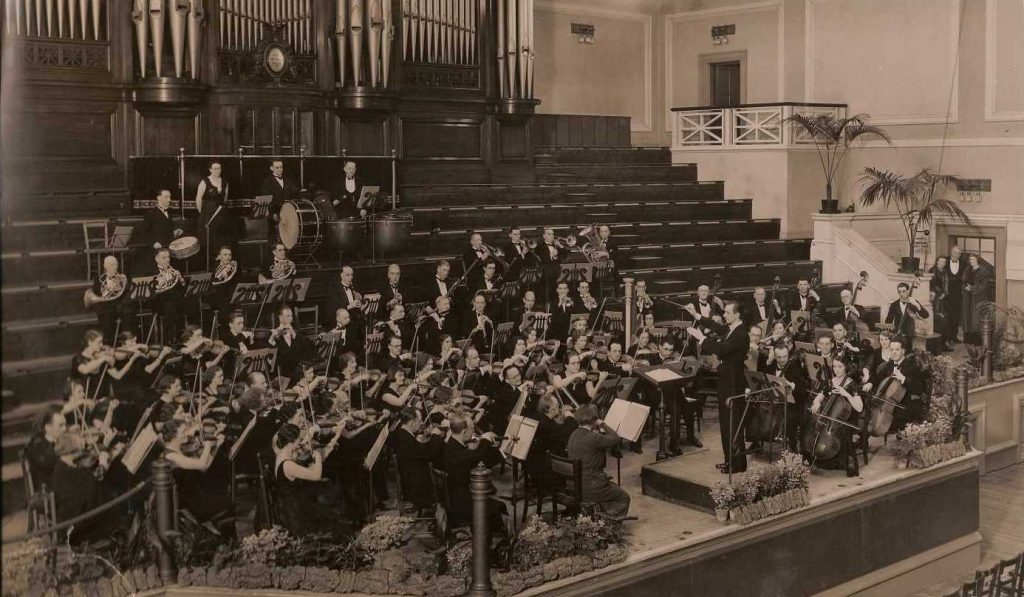 Dr Malcolm Sargent was appointed to the staff of the new University College in January 1922. In 1924 he left and that year Grace Burrows was appointed a part-time lecturer, as was her brother, Benjamin Burrows (1891-1966), a talented organist and composer. The 1924/5 College Prospectus records that the subjects taught in its thriving Music Department included musical appreciation, aural, harmony and counterpoint and orchestration; it ran musical ensembles and ladies and mixed voice choirs; and offered individual lessons for piano, organ (using the de Montfort Hall instrument), violin and solo singing. Grace herself ran orchestra practice, string ensemble, and gave violin lessons, while right up until WW2 her brother taught organ, harmony and counterpoint, aural and musical appreciation. Benjamin Burrows' musical compositions were donated to the University in 1980 and 1996 and are housed in the University's Special Collections – the catalogue of his works for piano, strings, orchestra and solo voice runs to 98 pages.
Benjamin and Grace would almost certainly have often played the two superb pianos given by Marshall and by Russell, for teaching, accompanying and for pleasure. Good accounts of them are given in the University archives book of gifts. The Marshall brothers' piano was clearly of high quality and a generous gift. The instrument, which is of beautiful tone, is a Model 2 overstrung upright drawing room grand of 7¼ octaves from A to C, made by Messrs Sir Herbert Marshall & Sons, London, and is in a mahogany case. The instrument given by Wm. Russell & Son was a horizontal boudoir grand pianoforte by Collard and Collard, serial no. 188236, value £240.
The renowned Collard & Collard Piano Co. was established in 1767 as Longman & Broderip, a music publishing house that also built pianos and organs. The famous composer and piano virtuoso, Muzio Clementi, whose music was published by Longman's, invested heavily in the firm and because of his fame and fortune it was very successful and grew at a rapid pace. F.W. Collard was a mechanical genius, and was awarded several patents for piano design and construction. His instruments were a sensation across Europe and Collard's was one of the most popular and successful European piano manufacturers of all time. When the boudoir grand was presented to the University College by Karl Russell, he assured them that 'Messrs Collard have given the grand their personal attention right through the factory and we are quite sure it will give you every satisfaction'.
Sir Malcolm Sargent remembered Karl Russell as 'a small dapper man who was very particular about his appearance, went to London regularly to get his hair dressed, played the piano plausibly, collected expensive editions of the classics and lived in a big, tastefully furnished house in Ratcliffe Road, Stoneygate'. His firm undertook the tuning of the University pianos and he was sometimes invited to a University Council Dinner.
Given the competitiveness between the firms of Marshall and Russell, it is hardly surprising that they both gave such high quality instruments to the College – no doubt each hoping to outdo the other with the generosity and prestige of their gifts and to promote the choir and orchestra that each one had founded, nurtured and seen become so successful. Dissimilar in physical appearance, social level and civic commitment, these two men, nonetheless, shared a passion for musical performance, were aggressively ambitious in business, had leadership skills and an aptitude for innovation – resulting in the gift of two fine grand pianos to the University College.
In 2019 there is no record of these two pianos in the University's Piano Inventory listing. When and to whom they were given or sold is not known.
Key sources
Many thanks to Sam Dobson for his enthusiasm, and for allowing the inclusion of excerpts from his LSO articles and reproduction of LSO images. Sam has researched the history of the LSO and keeps their archives.
Antique Piano Shop, online
Articles by Sam Dobson at:-
https://www.leicestersymphonyorchestra.co.uk/about-us/historic-profiles/
Attenborough Arts Centre Piano Inventory
Crutchley, Neil, History, article on LSO website
Faragher, Martin (1985) A Century of Song: the story of the Philharmonic Society 1886-1986. The Society
ULA/SR2/1 Annual Reports, Music Department
ULA/MS132 Catalogue of Benjamin Burrows compositions
ULA book on Gifts