Biographical article on Duncan Henderson and Elizabeth Henderson researched and written by Caroline Wessel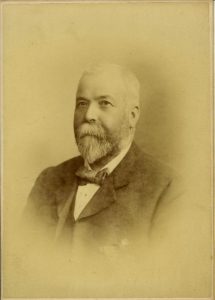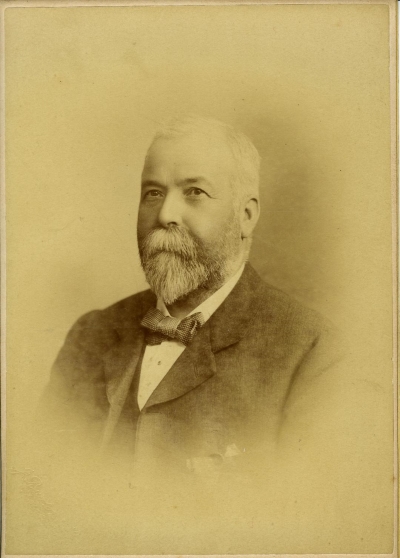 On 26 November 1917, Mr Gibbs, Hon. Secretary of the proposed new University, scribbled at the bottom of a piece of paper about a Prisoners of War Committee meeting that Mr Duncan Henderson had just made him an offer of money for the University. Aside from Dr Astley Clarke's bank payment on Armistice Day 1918, the Henderson promise was the very first gift of money, made just twenty-two days after Mr Fielding Johnson had purchased the former County Lunatic Asylum as a site for the University. Mr and Mrs Henderson made a generous donation to the proposed University College that was special in two significant ways – firstly, it was the earliest promise of a monetary gift to the University fund; and, secondly, it was given in gratitude for the lives of the Hendersons' two soldier sons, who – although they had fought throughout the whole of WW1 – had survived.
The citation for the Henderson gift in the Golden Book (1921), a handsome tome recording the early donations, reads
Mr and Mrs D. Henderson (A thank-offering for their two sons, Roland A., and John G., coming safely through the Great War, in which they served from its beginning to its end.)
The amount they gave was £500, a generous bequest, as in 2017 this sum was worth £14,528. Doubtless for those families whose loved ones returned home after the war there would have been mixed feelings – those of joy and gratitude, but also of sorrow and perhaps guilt, when remembering those who did not come back.
Duncan Henderson (1851-1931) was a successful Leicester manufacturer in the boot and shoe trade. Born in Kineff, Scotland, he joined K Shoes (est. 1842) in Kendal, Westmorland (now Cumbria), to learn the shoe trade. In 1870 Duncan married Margaret Wilson of Kendal, and they moved to Leicester, where in 1880 he started his own footwear business, that would become D. Henderson and Sons. Duncan and Margaret had seven children, including Roland Augustus, but in 1884 Margaret died in childbirth. In due course Duncan married Elizabeth Parker (b.1848), the mother of John Gilbert. In 1906 the family were living at 5 Salisbury Road, the future home of the University of Leicester's Centre for English Local History, but by 1911 had moved to an elegant house with grounds in Glebe Road, Leicester. The Hendersons called it Cluanbeag, meaning 'Little Field' in Gaelic, after the name of the family home in Scotland and the initials 'DH' are still today carved on the house facade above its stone porch.
Mr Henderson played a prominent part in the national boot and shoe trade, serving from 1906 to 1908 as President of the Boot Manufacturers' Association, followed in 1909 by two years as President of the British Footwear Manufacturers' Federation founded in 1898. At the large-scale University College Bazaar held in May 1922, the Leicester Boot Manufacturers' Association ran a highly successful stall. 'Some of the items on sale were specially designed for the occasion, [which] no doubt helped to encourage a brisk trade and the Stall was by far the most profitable of the whole Bazaar, raising £1,383.12s.1d'.
Duncan was a Justice of the Peace and also a committed churchman, for in 1910 he is listed as a churchwarden for St James the Greater church. And in 1920 he served for one year as Treasurer of Leicester Royal Infirmary – an appointment that maybe sprang from his deeply-felt emotions about the recent war. For in July 1920 a new Physiotherapy Department was opened that had been initiated by Dr Astley Clarke in 1917. As surgeon Ernest Frizelle explains, 'The need to provide facilities for discharged soldiers suffering from the effects of wounds and other injuries had been voiced quite early in the war', but efforts to raise a temporary building were unsuccessful. However 'Dr Astley Clarke came back from war service in August 1917 and in September a rehabilitation department was established under his direction in the Children's Hospital operating theatre and some small rooms nearby. In this wholly inadequate and cramped space, Astley Clarke treated very large numbers of patients. In 1917, 6,102 attendances were recorded in the department; by 1919 the number had risen to 24,820.'
Perhaps Duncan Henderson wished to be involved that year with the LRI finance that would benefit war veterans, as a practical means of expressing his own gratitude for the sparing of his sons' lives. Similarly, he, his business and his two sons were regular and generous subscribers to Leicester Charity Organisation Society, which in the 1920s was running the only scheme in the country to assist 'The Ex-Service Man on the Road', those WW1 veterans who had left home to find work and were living alone, in poverty and often mental distress.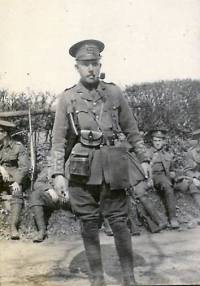 Fortunately it seems that the two Henderson ex-soldiers recovered from their war-time experiences. Roland Augustus (1881-1953) served in the Royal Leicestershire Regiment from 1912-1919, but had already served in the Volunteer Battalion in the Boer War in South Africa. In September 1914 he was promoted to Lieutenant in the 4th Battalion of the Leicesters and went to France in February 1917. He fought there and then in Flanders, at the time when the Allies were making a renewed assault on German lines in the much-contested Ypres region. During 1917 Roland was wounded, but recovered, and by the end of the war he had attained the rank of Major. After the war he joined his father and brother, Harry, in the family business and died in 1953 aged 72 years. Roland's brother, John Gilbert Henderson (1884-1954) served in the Royal Artillery, and was also promoted to Major. He received a Military Cross and died in 1954 aged 70.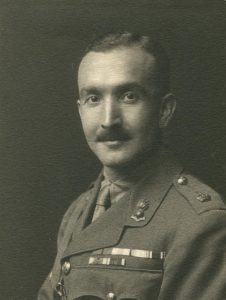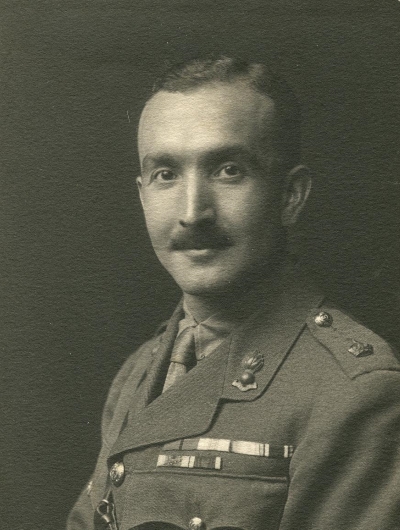 The thank-offering given by Mr and Mrs Henderson for their 'sons coming safely through the Great War' echoes the poignant motto of the University founded as a war memorial, Ut Vitam Habeant – 'that they shall have life', which serves to remember both those who died in the First World War and those who bravely fought – and still had life.
Key Sources
Warmest thanks to John and Philippa Henwood for sharing documents and information relating to their family history. Philippa is the granddaughter of Duncan Henderson.
Burch, Brian (undated) 'The Making of a University in Leicester', ULA/D12/1
Frizelle, Ernest (1971) The Leicester Royal Infirmary 1771-1971
McWhirr, Alan (1999) Century to Millennium: St James the Greater, Leicester, 1899-1999
Royal Leicestershire Regiment WW1 database
Leicester Charity Organisation Society Annual Reports 1921-1930
The Golden Book (1921), ULA/HIS/FOU/1
Henderson private family archives