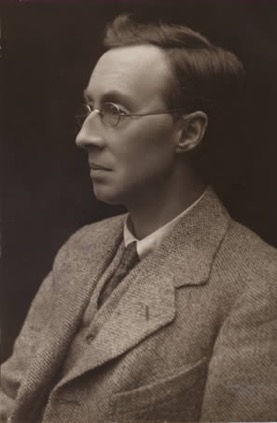 Harry Hardy Peach was an enthusiastic supporter of the University College, giving over 1,600 books to the library and making a number of other generous donations. He was a member of the Court of Governors, College Council, Academic Committee, and many other College committees. Born in Toronto in 1874, his family returned to the Midlands when he was three years old and he was educated at Wyggeston Boys Grammar School, and then at Oakham. He ran a bookshop in Belvoir Street, until in 1907 his poor eyesight forced him to change career, when he set up Dryad cane and metal works and subsequently Dryad Handicrafts. Possessed of formidable energy and drive, Peach was deeply committed to political and social reform, a member of the Independent Labour Party and friend of Ramsay MacDonald. He was a founder member of the Design and Industries Association, set up in 1915 to raise the standard of British design, and a leading figure in the campaigns of the 1920s and 1930s to protect town and countryside from uncontrolled advertising. 'Dynamic, dogmatic and often overbearing', his influence on British design in the interwar years was huge.
He was fluent in German and developed a love for the country, visiting it regularly. Between the wars, he attended the Leipzig trade fair most years, buying metal and leather work, glass and pottery to display and sell at Dryad. He also published expansive reports on his visits in a local newspaper, complaining that the editor 'deleted all references to socialism'.
Miss Rhoda Bennett, Librarian at the time of Peach's death in 1936, recalled that he was, '… slightly eccentric and, perhaps hoping to induce a little interest in music, was seen from time to time to enter the Library, set up his music stand within the sacred precincts and to play gaily on some kind of wood wind instrument. He was so interested in this,' she commented, 'that I did not remonstrate, but thanked him for coming.'
Following his death, a public subscription was raised to establish a Harry Hardy Peach Memorial Fund to be administered jointly by the University College and Leicester Literary and Philosophical Society. The biennial Harry Hard Peach Lecture remains a highlight of the Society's lecture programme, and Peach is also honoured in the naming of the Harry Peach Law Library in the Fielding Johnson Building.
Key Sources
Pat Kirkham, Harry Peach: Dryad and the DIA, (London, 1986)
Notes made by Miss Bennett, (November 1979) from: David Baker, Leicester University Library: a History to 1961, (Leicester, 1984), p. 28
'Donors to the library', exhibition text by Margaret Maclean, 2014.