Information on the staff engaged during the first academic year of the University, in 1921-22.
None of the original academic appointments were permanent; permanent lectureships were established during the second year of opening, from 1922 onwards. For the first year, teaching had to be secured hastily, and so drew from local secondary school staff. Some was supplied by staff of the Technical College, who offered tuition in science subjects that were not covered by the College's own early staff.
In addition to the biographies on this page, you can also find out about our our first music staff and their supporters in a separate article by Caroline Wessel.
Principal (1921-30): Dr Robert Fleming Rattray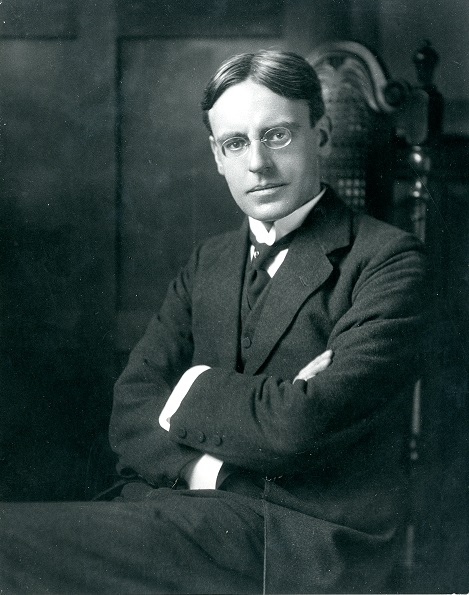 Dr Rattray (1886-1967) had attended Grove Academy, Broughty Ferry, and had an MA in English from Glasgow University, and had studied at Manchester College, Oxford, and in Germany and America. He achieved his PhD from Harvard University. Having been a Unitarian pastor in Liverpool he moved to the Great Meeting in Leicester in 1917. He was vocal in the public debate about opening a University College in Leicester, advocating high standards of teaching and not restricting subjects to those useful locally for industry and commerce. He was chosen as the first Principal in 1921. He taught the history of English language and literature, and Latin. He was President of the Lit & Phil Society in 1924-25 and the first president of the Leicester Drama Society. It was largely through his efforts that Vaughan College survived in the early 20th century by its absorption into the University as its Extra Mural department. Some of his other local roles included being President of the Leicester Temperance Society and President of the Leicestershire Handwork Teachers' Association.
Rattray resigned in 1931 in order to take up a post at the Unitarian Memorial Chapel in Cambridge. Dr Astley Clarke said, at his leaving, "We feel we are indebted to him for the strenuous work he has put in for the College, for which he has certainly not spared himself. We admire his oratorical powers, his logic and his power of holding an audience." His portrait was painted by local artist Mr J F Pettinger and hung in the College after his leaving. He was also presented with silver and a cheque. The students presented him with a briefcase, as this cartoon shows.
Sources:
Newspaper clippings in the University Archives, reference: ULA/PCB/1-2 (Press cuttings books).
Howes, C., (1927), Leicester: Civic, Industrial, Institutional, Social Life 1927. Leicester: Chas Howe. See p.157.
Botany (1921-23): Charlotte Elizabeth Cowper Measham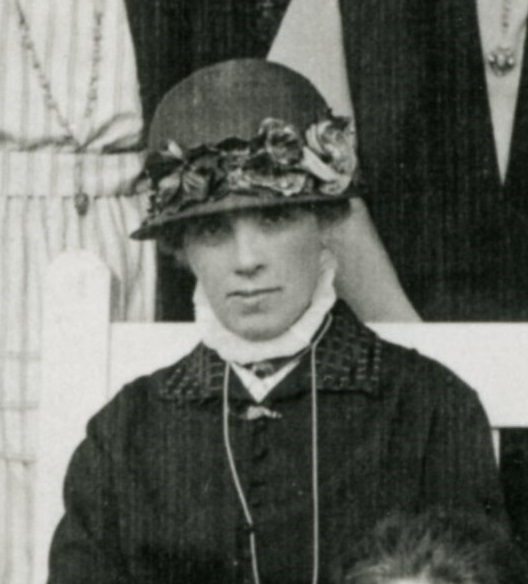 Miss Measham (1863-1937) was born in London in 1863 and educated at Devonport High School. In 1897 she went to Newnham College, Cambridge, where she passed the Natural Sciences Tripos, Class 1. She then worked as a teacher at Rochester Girls' Grammar School (1901-1905) and Newcastle Central High School (1905-1911), coming to Leicester in 1911 to teach at the Wyggeston Girls School (1911-1926). A prominent member of the Leicester Literary & Philosophical Society's Botanical section, she carried out local surveys, and worked on the County herbarium. In 1916, she was elected a member of the British Association for the Advancement of Science. When the University College opened, she was called on to provide teaching in Botany to some of our first students. She also helped A R Horwood in laying out the first University botanical garden. She was engaged for the first year, on a temporary contract, after which a permanent lectureship was set up, and was taken by Dr Miles-Thomas from 1922 onwards. She may have been offering assistant teaching in the second year, leaving in 1923. Following her retirement from Wyggeston Girls in 1926 she lived in Teignmouth, Devon, where she died on 17 March 1937.
The first University College Minute Book includes a reference in the Academic Committee report to the department: "In Botany the College is fortunate to have the provision of the Museum Laboratory which is recognised by the Conjoint Board of the Royal Colleges of Physicians and Surgeons for the first professional examination in medicine. The teaching in Botany for the College is under Mr E E Lowe, BSc, FLS, assisted by Miss Measham, who was placed in the First Class of the Natural Science Tripos at Cambridge."
Sources:
British Association for the Advancement of Science List of Members (1916), p. 61
Ogilvie & Harvey, (2003), The Biographical Dictionary of Women in Science, pg.874; Primavesi & Evans, (1998), Flora of Leicestershire, pp.73-75
University of Leicester Archives Press Cuttings Book 1, pg. 66
Geography (1921-28): Gladys Mary Sarson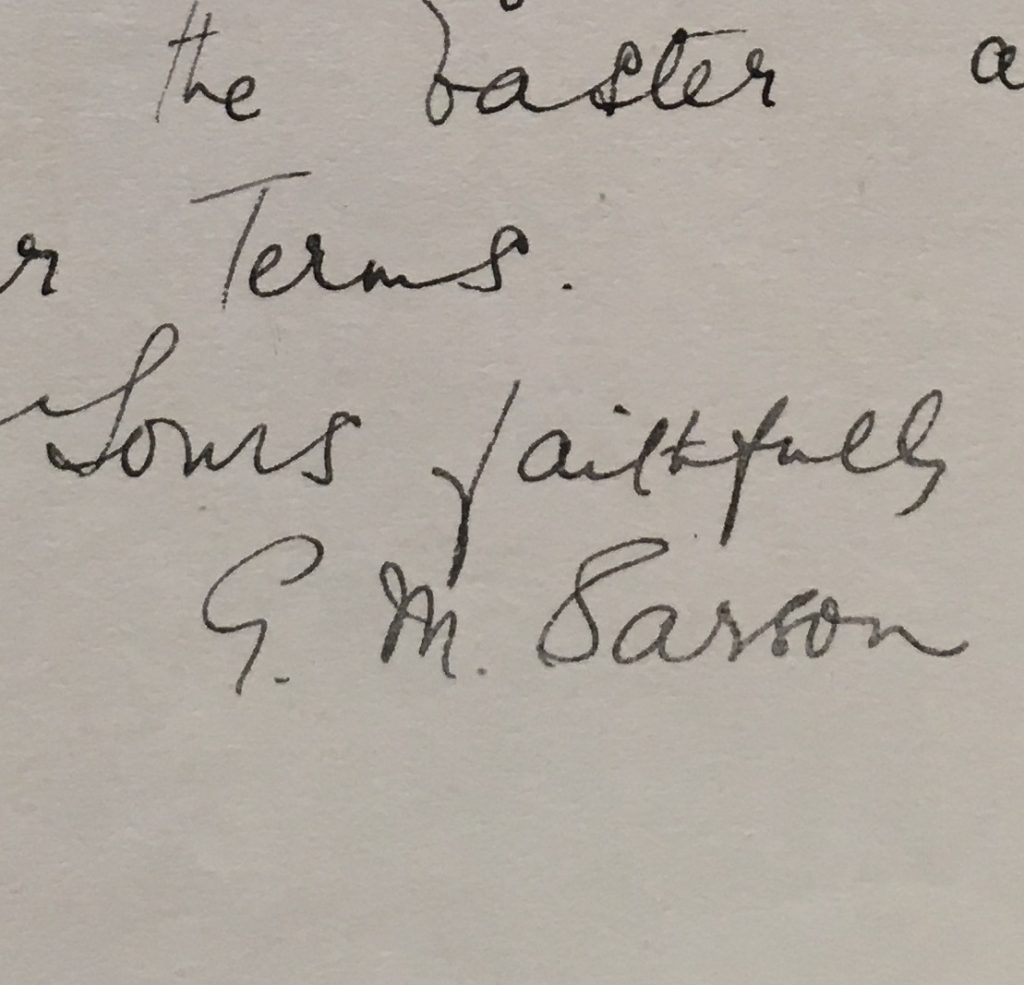 Miss Sarson (1892-1975) was a local grammar school teacher who was engaged to teach part-time at the College. The 1911 Census shows her as the 18 year old daughter of a widowed commercial traveller in the boot and shoe business, living in Kirby Road, Leicester. She was already a teacher at this time. She was awarded a Diploma in Geography from the London School of Economics in 1919. Newspaper cuttings from our archives suggest that she had committee roles with the Girls' Friendly Society and the Halcyon Club. It would seem that Miss Sarson's contract also changed when a lectureship was set up in 1922 and taken by P W Bryan. She continued to teach in the new department, however, registered as a PhD student at the College in 1925, and presented a paper at the 1933 meeting of the British Association when it was held in Leicester. She is, however, mentioned in the Annual Reports for 1925-26 and 1927-28, suggesting that she was teaching at least part-time for a number of years. The Student Register books also show her signing onto Geography evening classes, including for "Geography Maps" in the 1928-29 year. The 1925-26 Annual Report mentions (work done) "by Miss Sarson on the geographical conditions of the port of Liverpool" (ULA/P/AR5C p12). The 1939 England and Wales Register shows her living with a younger sister, Winifred, also a teacher. Gladys has the words "Schools Voluntary Service" in her notes. She was still living in Leicester at the time of the 1971 Golden Jubilee, and was interviewed about the early days of the College for the Leicester Mercury supplement, which reported: "Miss G. Sarson, the College's first geography lecturer, who still lives in Leicester, thinks it should be emphasised that those were magic lantern days. No film strips, no coloured slides to illustrate lectures."
Sources:
Leicester Mercury special supplement, 04 October 1971, 'Leicester University Golden Jubilee,' p.5
Leicester Daily Post, 14 April 1920, 'Women's World'
Leicester Daily Post, 18 February 1921, p.4.
University of Leicester Archives, Student Register books, ULA/SR2/1
Music (1921-24): Dr Malcolm Sargent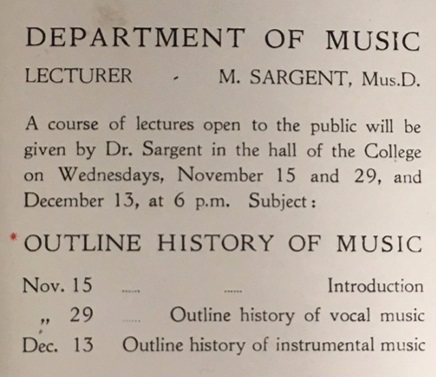 Sir Harold Malcolm Watts Sargent (1895-1967) was the first appointment to the Music department, which was established in the first term of the first year (autumn 1921). Dr Sargent appears to have taught here for the first few years, resigning during the 1923-24 academic year. It was reported in the Leicester Mercury on 18 October 1921 that "The Department of Music would involve no charge at all upon the College. Dr. Sargent would offer courses on the piano and organ and in singing." The Department did well out of paid courses for the wider public. Sargent was a rising star, ambitious and known as a vain philanderer with an expensive taste, yet his successes as organist in Melton Mowbray and at Leicester led to his career escalating very quickly. He went on to co-found the London Philharmonic and was Chief Conductor for London's Proms from 1948 to 1967. During the Second World War he dedicated himself to providing music as a morale booster for the public. He is well known for his Gilbert and Sullivan productions, and for numerous BBC broadcasts. He conducted the British National Opera Company, the Ballets Russes, the BBC Symphony Orchestra and the Royal Choral Society. He was knighted in 1947 for his services to music.
An oral history interview was carried out in the 1980s with Nora Waddington, who was a student from 1924-26, and she mentioned Malcolm Sargent in a short anecdote of c. 5 mins length. For information about others involved in the Music Department during its early years see Our first music staff and their supporters by Caroline Wessel.
Sources:
Grantham Journal, 17 September 1921, p.10, col. c
Leicester Mercury, 18 October 1921, 'Training of Teachers' – clipping in University of Leicester Archives Press Cuttings Book 1, pg. 61
University of Leicester Archives Press Cuttings Book 1, pg. 66
Oxford Dictionary of National Biography article for Malcolm Sargent
History (1922-25): Francis William Buckler, MA
Francis Buckler (1891-1960) had attended the Wyggeston Boys' School, and Trinity Hall, Cambridge. He was an Allen Scholar at Cambridge. He had spent three years teaching in India and conducted his First World War service in the east. After returning to Cambridge, Buckler was highly recommended to the post at Leicester and was chosen. He was appointed in time for the second year, 1922, and taught general European history 395-1500AD, English history to 1485, and English economic history. He appears to have stayed for five years, leaving at the end of the 1924-25 session to become Michigan chair of ecclesiastical history at Oberlin College, Ohio, USA.
Sources:
Leicester Mail, 2nd June 1922 (includes his photograph)
University of Leicester Annual Reports, including ULA/AR4, pg.10
University of Leicester Archives Press Cuttings Book 1, pg. 66
University of Leicester Archives Administrative Records: AD/A9/1/12
Publications:
'The Political Theory of the Indian Mutiny,' Transactions of the Royal Historical Society Vol. 5 (1922), pp. 71-100
'A New Interpretation of Akbar's "Infallibility" Decree of 1579,' The Journal of the Royal Asiatic Society of Great Britain and Ireland No. 4 (Oct., 1924), pp. 591-608
The "Pallium" of Saint Cuthbert, 1925. Newcastle: Andrew Reid
Geography (1922-54): Patrick Bryan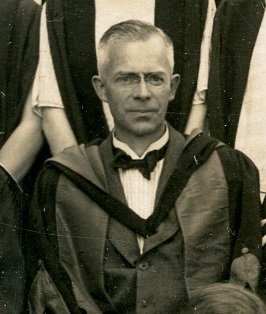 Patrick Walter Bryan (1885-1968) was born in Bray, County Wicklow. He was in business before the First World War, but Geography became a viable profession for him after. His first degree in Geography and Commerce, and his PhD, were attained at the London School of Economics. He came to Leicester to be Head of Geography after having been a lecturer at Belfast and the London School of Economics. Appointed in time for the second year (1922/23), he also taught special courses for teachers and the public in economic geography. Bryan came to play a very central role in the development of the University. He taught Geography and Economics, and gained his PhD while at the University, during the 1923-24 year. The following year, he was made Head of Department (Geography and Commerce), which he remained until 1930-31, when, following the resignation of Principal Rattray, Bryan acted as Principal until Frederick Attenborough's appointment. Upon the arrival of Frederick Attenborough, he was appointed Vice-Principal (in May 1932). He was President of the Leicestershire Literary and Philosophical Society in 1937-38. He was also a Dean of the Faculty of Arts from 1942. During the Second World War, he was Director of Vaughan College. His skills as a photographer were well-known. He produced six colour films, full-length, on different regions of Britain. He retired in September 1954. His 30 years at Leicester defined the early Geography department. The Chair of Geography was subsequently taken by Norman Pye.
Sources:
75 years of Geography University of Leicester Bulletin, May 1997
Leicester Mercury 31st May 1922 (includes his photograph)
Millward, R., (1969), 'Patrick Walter Bryan' (obituary), Geography, Vol. 54, No. 1 (January), p.93
ULA/P/AR32 p5, Annual Report for 1953-54 session (on his retirement)
Publications:
A scientific survey of Leicester and district British Association for the Advancement of Science. Annual Meeting (1933 : Leicester) P. W Bryan (Patrick Walter) 1933. Available at David Wilson Library Floor 3 Yellow zone (LOCAL HISTORY 942 LEI/1 /BRI)
Presidential Address to the Leicestershire Literary and Philosophical Society: The Landscape of Leicestershire. Transactions of Leicester Literary and Philosophical Society vol. 39, 1938, pp. 5 – 16.
Jones, R. & P. W. Bryan, (1924), North America: an Historical, Economic and Regional Geography. London: Methuen
Bryan, P. W., (1933), Man's Adaptation of Nature: Studies of the Cultural Landscape. London: University of London Press
Mathematics (1922-1924): Edmund Rhodes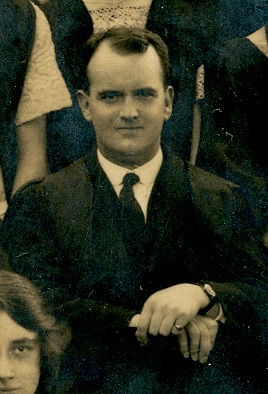 Edmund Cecil Rhodes, (1892-1964) was appointed in time for the second year. Rhodes taught at the University for three years. He gained his PhD during the final of these years (1923-24). Rhodes attended Bradford Grammar School and Trinity College, Cambridge, where his achievements were distinguished. He was a Royal Navy instructor in mathematics and navigation during World War I on HMS Commonwealth and HMS Inflexible. He then taught at the Royal Naval College in Greenwich. Before coming to Leicester, he was an assistant in the Department of Applied Statistics at University College, London. In 1924 he resigned to take up a University Readership in Statistics appointment at London University, tenable at the London School of Economics (where he stayed until he retired in 1958). He is known for the Rhodes algorithm in linear programming. He was replaced by Mr E V Whitfield, BA, BSc, of Cambridge.
Sources:
Grebenik, E., (1965), 'Edmund Cecil Rhodes, 1892-1964,' Journal of the Royal Statistical Society. Series A (General), Vol. 128, No.4 (1965), pp.615-16
Leicester Mail, July 1922 (announces his appointment as Lecturer in Mathematics), Leicester Mercury, Saturday 5th August 1922 (shows his photograph). Both clippings can be seen in the University of Leicester Archives & Special Collections press cuttings books (reference ULA/PCB1 page 66).
Publications:
On Smoothing, Tracts for Computers, no.6, 1921, Cambridge University Press
Elementary Statistical Methods , E C Rhodes, Routledge and Sons, 1933
Reducing Observations by the Method of Minimum Deviations, Phil. Magazine 7th Series. Pp. 974 – 992, 1930
Young Offenders, an Enquiry Into Juvenile Delinquency, A.M. Carr-Saunders e Hermann Mannheim, 1942
Botany (1922-37): Dr Ethel Miles Thomas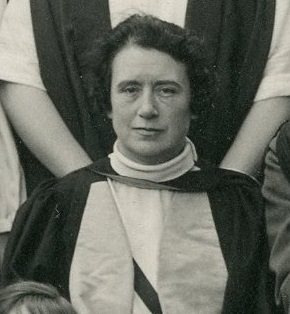 Ethel Nancy Miles Thomas, later Mrs H H F Hyndman (1876-1944), was educated at University College London and the Imperial College of Science, London. She held a BSc Botany and Zoology and DSc. She was a Fellow of the University College, London and formerly lecturer in botanical department of the National Museum of Wales in Cardiff and at Cardiff University College. She carried out pioneering work in her field (notably on double fertilization in angiosperms). During the First World War she was a Women's Land Army inspector, and did research for the War Office and Medical Research Committee. She was President of a session of the Imperial Botanical Conference and Convener of a committee concerned with the establishment of biology courses in university colleges for teachers in training during their third year. Miles Thomas was appointed Lecturer in Botany and Zoology at Leicester to start in the 1922-23 year. Her relationship with the University appears to have been somewhat uneasy at times, and her relations with the management committees were regularly on the edge of argument, as they had been at Bedford (she was dismissed from there in 1916). The College forced her to retire c.1937 when she reached the age of 60. She resisted this unwanted action but the College took legal advice and insisted upon her being replaced at that time. Her replacement was Dr C T Ingold.
Sources:
Mary R.S. Creese, (1998), Ladies in the Laboratory? American and British Women in Science, 1800-1900: A Survey of their Contribution to Research. London: Scarecrow Press. p39-40
Ogilvie, M., J Harvey & M Rossiter (Eds.), (2000), Biographical Dictionary of Women in Science: Pioneering Lives from Ancient Times to the Mid-20th Century. Abingdon: Routledge. p1280
Oxford Dictionary of National Biography entry by Mary R S Creese, published online September 2004
University of Leicester Archives, Biographical details of 7 members of staff, ULA/PER6/2
University of Leicester Archives Press Cuttings Book 1, ULA/PCB1 page 73, newspaper clipping about her appointment and background
Publications:
'The Primary Vascular System in Phanerogams: Its Characters and Significance,' Report of the British Association for the Advancement of Science, 92nd. Meeting, Toronto, 1924
Classics (1923-1960): Philip Leon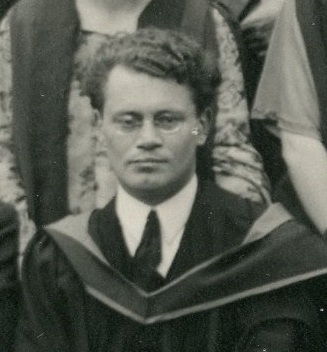 Philip Leon (1895-1974), had Romanian Jewish parents who left Romania when he was very young. He went to Manchester Grammar School and gained a BA from New College Oxford. He was Lecturer in classics at University College, London and appointed to Leicester from the 1922-23 year. He married his colleague, Dr Mariette Soman, with whom he had two daughters. He married again after her death. He was accomplished in Greek and Latin and a respected philosopher. His The Ethics of Power (1935) is often regarded his most important work (it was his first book) and had particular impact in Europe (especially in Italy, where it is thought to have inspired the anti-fascist resistance). He was a keen member of the Classical Association. He built his department up to a staff of five and became Professor in 1955 (his inaugural lecture entitled 'The Professors') before retiring in 1960. He then taught classics at the University College of Rhodesia and Nyasaland for 18 months before coming back to live in Leicester. He died in 1974.
Sources:
Leicester Mercury, 17 December 1974, 'Death of Professor Philip Leon.'
London Gazette, 04 February 1975, p.1646
University of Leicester Archives, University Minutes 1959-60, minute 67 of the Board of Faculty of Arts section
Publications:
The Ethics of Power, or The Problem of Evil, 1935, London: George Allen & Unwin Ltd.
Plato, 1939, London: Thomas Nelson & Sons
The Philosophy of Courage, 1939, Oxford University Press
'The Place of the Classics in the Modern Universities,' pp.175-82, Higher Education Quarterly, Vol.6, Issue 2, February 1952
'Existentialism and Metaphysics,' in Philosophy, 28 (107): 342-347 (1953)
French and German (1922-28): Dr Mariette Soman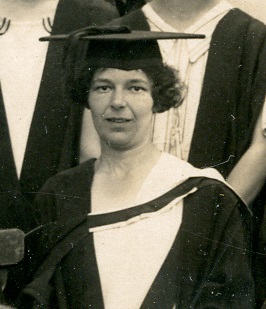 Mariette Soman (later Mrs Philip Leon), would appear to have attended Norwich High School. She printed a booklet called 'The Norwich Players: a History, an Appreciation' in 1920. She was awarded a First Class degree in German from Girton College, Cambridge, and was awarded a scholarship in 1912 that enabled her to gain her Docteur d'Universite, from the Sorbonne in Paris. During the First World War, she was in Room 40 in the Admiralty Intelligence Department, working on the decoding and translation of German wireless messages. She attended the Peace Conference in 1919, as Secretary to the Director of Naval Intelligence, Sir W R Hall. She was awarded an MBE for her services. She was appointed Lecturer in Modern Languages at Leicester in 1922. She established a school of German at the University College as well as an Anglo-German Club, of which she was president for a long time. She left at the end of the 1927-28 year, after her marriage to Philip Leon of the Classics department.
Sources:
University of Leicester Archives, Press Cutting Book 1, ULA/PCB1, p.73, newspaper clipping about her appointment and background
University of Leicester Archives, Annual Reports, ULA/P/AR/2B, p.13
University of Leicester Archives, Biographical details of 7 members of staff, ULA/PER6/2
Commercial Law (1922-27): Charles Edgar Loseby, Barrister-at-Law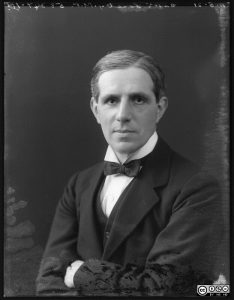 Charles Loseby (1881-1970), was a dynamic lawyer from the city who was engaged as a part-time lecturer in Commercial Law from 1922 onwards. A clipping from the Leicester Mercury of 1st June 1923 in the University's first Press Cuttings Book (ULA/PCB1/p76) said: "On the motion of Dr. Rattray the council unanimously resolved to write to Mr. C. E. Loseby, barrister-at-law, to give a course of lectures on commercial law during the session 1923-24….All the lectures will be held in the evening to enable persons who are engaged during the day to attend." He had established the first barrister's chambers in Leicester, in New Street, and was well-known and respected across the region. He withdrew from teaching during the 1926-27 year, the Department of Commerce having been firmly established by then and his career proving busy. He had been awarded the Military Cross during the First World War and also later went into politics, becoming MP for Bradford East. One of his most high-profile cases was in the attempted defence one of the last women in the country to be tried under the 1735 Witchcraft Act; Helen Duncan. Duncan had apparently predicted the sinking of HMS Barham in November 1941 (an event that had actually occurred but had been kept secret), and so aroused the attention and suspicion of the Navy. She was tried at the Old Bailey in London and Loseby had been her defence lawyer. She was eventually sentenced to nine months in Holloway Prison; one of the last people to be convicted under the Act (and the first for over a century). Loseby then went to Hong Kong where he became a QC, and returned to settle in Guernsey in the 1950s.
Sources:
Leicester Mercury, 1 June 1923, 'University College: Dr Rattray and the Principalship.' (ULA/PCB1/p76)
Leicester Mercury, 31 October 2017, 'Last convicted 'witch' defended by city man,' by Austin Ruddy, available online (accessed 21/12/2018)
National Portrait Gallery Collections, photographs of Charles Edgar Loseby from 1921
University of Leicester Archives, Annual Report 1922-23, ULA/P/AR/2B p13
Honorary Librarian (1921-31): Frederick Lott, MA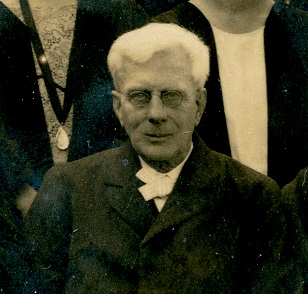 Frederick Barnes Lott (died 1939 aged 85) was a very early supporter and donor to the College. He gave an early gift to the founding of the College and followed this with another of 100 guineas in 1928 towards an extension of the Library. He served as honorary librarian for ten years, suggesting in 1931 that he should be overtaken by a professional in the role, namely the Assistant Librarian, Rhoda Bennett, but he continued to play a role until 1939. He was a retired HM Inspector of Schools and became very dedicated to the new College library. He was well-known in Leicester literary and educational circles, having been a member of the Literary & Philosophical Society since 1899 and President of it in 1911, the year before Astley Clarke's Presidency. Barnes was working on a volume of 'Leicestershire Worthies' biographies that was left unfinished at the time of his death.
Sources:
University of Leicester Archives Press Cuttings Book 2, pp.96, 116 (Clipping from a local newspaper)
Publications:
He wrote a history of the first hundred years of the Leicester Literary and Philosophical Society, 1835-1935, published by the Society.
Chemistry (1925-65): Louis Hunter, MSc, PhD, FRSC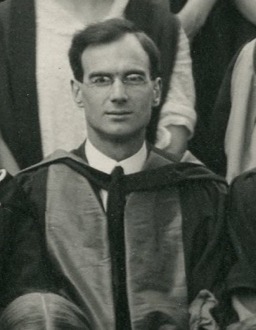 Louis Hunter (1899-1986), founded the Chemistry Department at Leicester. He was educated at a secondary school in East Ham, London and gained a scholarship to attend East London College (now Queen Mary College), London. He was briefly called up during the First World War (in June 1928) and was drafted as 2nd Class Mechanic in the Royal Navy (Smoke Section), completing his degree after being demobilised in January 1919. He then worked as an assistant lecturer at the University College of North Wales at Bangor from 1920. He was appointed to the Lecturer post at Leicester in 1925, and stayed here until retiring in 1965. In 1925, he was thrown in at the deep end; establishing and developing the labs, teaching spaces, teaching and supervision. This all increased with rising numbers of students and he said "It was perhaps inevitable that such pressure caused a break-down of my health in 1929, which necessitated four months leave of absence." He did work on hydrogen bonding in organic chemistry (a topic that earned him a doctorate from London University), but taught right across the subject – including medical topics. He was keen on research and wrote about some of it in a notebook we hold in the archives, but laments having little time for it during periods of heavy teaching and the wartime disruption of accommodating students from King's College. During the Second World War, he became Chairman of the Joint Recruiting Board for Leicestershire, which controlled the call-up of students, and served as a Gas Identification Officer and, after the War, Adviser on Civil Defence for the North Midlands in 1951. He was an honorary Fire Observer for the Midlands from 1941-52. When a Chair was first established for Chemistry, Hunter became Professor from 1946-65. He was Vice-Principal from 1952-57 and Pro-Vice-Chancellor 1957-60. He was an important figure during the College's preparation for becoming a University (attained 1957). There is still a departmental prize named in his memory: the Hunter Medal.
Sources:
Leicester Mercury, 6 February 1946, 'University College Appointments,' (his appointment to Chair of Chemistry)
Appointments – 'Chemistry at University College, Leicester: Prof. L. Hunter' in Nature, No.3982, February 23, 1946, p. 223
University of Leicester Archives, Personalia, ULA/PER1/1, Notebook of Louis Hunter's personal account of his career from schooling at 1912 to post-war period (c.1950s-60s)
University of Leicester Archives, Personalia, ULA/PER3/25, 'Professor Louis Hunter' (an obituary)
Publications:
'Preparation and reactions of bromopicrin' (1923), in Journal of the Chemical Society, Transactions, Vol.123, pp.543-49
'Schools of chemistry in Great Britain and Ireland-XV The University College of Leicester,' (1955) in Journal of the Royal Institute of Chemistry, Vol. 79, pp.15-16
Physics (1925-32): Alexander Menzies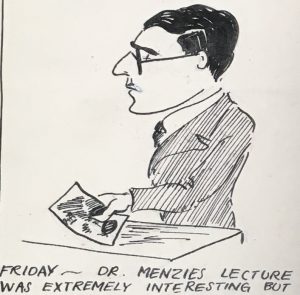 Alexander Charles George Menzies (1897-1974), was a scholar of Christ's Hospital and Christ's College, Cambridge, graduating with a 1st Class Nat Sci Tripos. During the First World War he flew seaplanes. He was a lecturer at Leeds University in 1919 and his reference for Leicester was full of praise from his Leeds University colleagues, not just for range of teaching skills but for invention of new experiments, and of developing sports and social activities for his colleagues. He was chosen to found the Physics Department. While teaching at Leicester, he was awarded his DSc in Physics by London University in 1929, and had in that year given a paper at the British Association meeting at Johannesburg on the Raman effect. He left Leicester in 1933 to take a Chair in Physics at University College, Southampton (his replacement at Leicester was to be L G H Huxley). During the Second World War, Menzies was given leave from Southampton for duration of the War to be Group Captain in the RAF, working on scientific issues. After Southampton, he was Director and Controller of Research and Development for Hilger & Watts, Ltd., makers of scientific instruments, where he remained until retiring in 1964. He was a Fellow of the Royal Society of Edinburgh, Chairman of the Industrial Spectroscopy Group of the Institute of Physics, and a member of the Defence Services Research Facilities Committee of the Royal Society. His first research student was C P Snow.
Sources:
de la Mothe, J., (1992), C P Snow and the Struggle of Modernity. Austin: University of Texas Press. P.209
Leicester, Leicestershire and Rutland College Report and Accounts 1921/22 (first Annual Report, ULA/P/AR1)
The New Scientist, 30 May 1957, Vol.2 No.28, p. 40, 'Contributors.'
University of Leicester Archives, Press Cuttings Book 2, p.109. Clipping from a local paper, 1929
Kellermann, E Walter, (2007), A Physicist's Labour in War and Peace: Memoirs 1933-1999, Chapter 9, np., M-Y Books
Knox, K. & T. Kushner, (1999), Refugees in an Age of Genocide: Global, National and Local Perspectives during the Twentieth Century. London: Routledge. p.443
Publications:
'The Raman Effect,' (1930), in Nature, February 8, 1930, pp.205-07
'Modern Trends in Spectroscopy,' (1951) in Journal of the Royal Society of Arts, Vol. 99, No. 4841, pp.283-302
French (1921-23): Mademoiselle Marie-Louise Chapuzet
Mdlle Marie-Louise Chapuzet is another of the first staff who appears to have been engaged on a temporary basis. Simmons (1958: 218) says she taught here until 1923. Chapuzet taught French at the Wyggeston Girl's School in the 1940s.
Sources:
Simmons, J., (1958), New University. Leicester University Press. P. 218
There is mention of Chapuzet in Wyggeston's Girls' School poem called 'A Senior School Alphabet,' of 1931, quoted pp.72-73 in the online Wyggeston Girls' Centenary 1878-1978 Memories are Made of This: a collection of articles and reminiscences covering 100 years of life at the Wyggeston by Hilary Whitbred and Kathryn Zanker, June 1978
University of Leicester Archives Press Cuttings Book 1, pg. 66
Latin (1922-23?): Mr W B Sedgwick, MA (temporary, part-time lecturer)
Appointed in time for the second year to relieve Dr Rattray of some of his teaching, Mr W B Sedgwick was engaged on a temporary basis. Based in the Latin department, he taught Roman history 289BC-14AD. This part-time arrangement appears to have rolled into a second year, as the Annual Reports note that he was teaching Latin and Greek during the 1922-23 session, but he is not mentioned beyond this.
Sources:
University of Leicester Archives Press Cuttings Book 1, pg. 66
Accountancy (1922-32): Mr Reginald Victor Rodwell, FCA

R V Rodwell would appear to have been a practising Accountant from Friar Lane in the city, who was engaged as a part-time lecturer from 1922 onwards (the College had aspirations to establish the Department of Commerce). The young College was particularly keen to offer practical teaching for people in or aspiring to business practice, and so the Accountancy and Commercial law teaching was begun very early on in the College's life. Mr Rodwell appears to have made some sacrifice to offer his services: in 1925-26 it was reported that "It was only possible for the College to continue the classes for the year by the public-spirited action of Mr. Rodwell. In previous years Mr. Rodwell returned to the College a large part of the nominal fee he was good enough to accept : when this crisis arose he gave his services for the entire year and he and his firm, Messrs. Wykes and Co., gave the assistance in teaching that was necessary." (ULA/P/AR/5C p14). By 1930, however, he had partially withdrawn from teaching, although he was still on the staff during the 1932-33 year.
Sources:
The London Gazette, 22 May, 1934, p.3319 (his full name mentioned)
University of Leicester Archives, Annual Report 1922-23, ULA/P/AR/2B p13, and Annual Report 1925-26, ULA/P/AR/5C p.14
University of Leicester Archives, Prospectuses, ULA/P/PS11B