Biographical article on Walter Lee Sargant researched and written by Caroline Wessel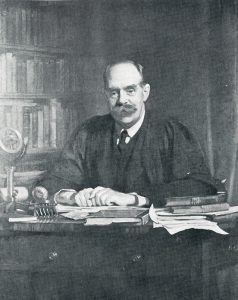 Walter Lee Sargant (1866-1956) MA, JP, Alderman. In 1921 the University College Council appointed a representative of Rutland County Council (R.C.C.), in order to affirm its name of 'Leicester, Leicestershire & Rutland University College'. He was Mr Walter Lee Sargant, Headmaster of Rutland's Oakham School (1902-1929), who was an Alderman and served on the R.C.C.'s Education Committee. He remained on the University Council for many years and was able to bring his considerable experience of education to the newly formed College.
The third son of Henry Sargant, Barrister-at-Law at Lincoln's Inn, Walter was educated at Rugby School and Trinity College, Cambridge and was Oakham's first lay Headmaster. He also served as a Rutland Justice of the Peace, was an amateur archaeologist and historian, publishing A History of Oakham School (1928), and a strong advocate of teacher training courses. Several of the prime movers of the proposed Leicester University were Old Oakhamians: Dr Astley Clarke and three of the four sons of H. Simpson Gee, the University's first Treasurer. So inviting Mr Sargant to be the Rutland representative on Council was an obvious and happy choice.
During Walter Sargant's time, the School increased considerably in size and within his first two years he had built a new Junior School, erected new Fives courts, funded the building of a new Physics Lab, and at his own expense bought an old chapel to convert into a school gymnasium. He also decreed that the staff could take beer with their lunch! Apparently 'the central feature of Sargant's genial and smiling face was an outsize walrus moustache' but 'the touchstones of his life were simplicity, vision and humanity, and he had a delightful quiet sense of fun'. He would often dig deep into his own pocket to fund the School's current objectives, but was 'at pains to conceal the extent of his own generosity and a boastful word was never heard to escape from his lips'.
When World War I ended Mr Sargant initiated, oversaw and part-funded the erection of a School Chapel, to serve as a War Memorial to the 69 Old Oakhamians Killed in Action – a similar concept to that of the University of Leicester, also created as a WW1 War Memorial. Sargant's brother, a renowned sculptor, carved the sculptures on the front of the chapel and engraved the names of the fallen, and various artefacts were given in memory of deceased loved ones. After Walter Sargant's death, his bequest of £8,000 was paid into a fund to help boys with financial difficulties to remain at the school – a strong parallel with today's University scholarships for young people who have overcome adversity, or have been in local authority care.
There is still a residential House at Oakham School called 'Sargants', whose Housemaster advocates his pupils to be 'courteous, considerate and communicate with each other', qualities that surely match those of Headmaster W.L. Sargant and are also encouraged by the University of Leicester.
Key Sources
Barber, John (1983) The Story of Oakham School.Sycamore Press
Clarke and Gee family archives (privately held)
Kelly's Trade Directory of Leicestershire & Rutland (1912)
University of Leicester Annual Report (1921)
Thanks to the Archivist of Oakham School