Information on some of the University of Leicester's first international students.
Our First International Students
In the first ten years of the University College being open, it appears to have taken six international students. This was quite a feat in some respects, as such a young College could not have yet built its reputation. This is what we know about some of our first international students, from the University Archives.
Tamotsu Shishikura (1922-24) and Aigi Tajiri (1924)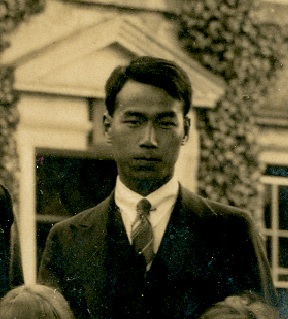 Our first international student appears to have been Mr T Shishikura, from Tokyo University. His student record card for 1922-23 tells us that he was staying in 5 Granville Road, Leicester. He was studying English. He may only have been in Leicester for two years, as there are no international students recorded for the year 1924-25 and neither does he appear in the class photo for 1924-25. The UK Incoming Passenger Lists show a Professor T Shishikura arriving in August 1922, aged 39. An outgoing record has not yet been found.
Aigi Tajiri was a part time student. He was born on 28 November 1898 who entered the Leicester University College in January 1924 to study English. The student record card for Aigi shows he was lodging with Mrs Wilsher in New Walk, Leicester. Like Tamotsu Shishikura, his record card shows he had previously attended Tokyo University College of Commerce, graduating in 1921. He has not been found in the passenger lists, but it is possible that Tajiri was known to Shishikura and they may have travelled together at some time.

The photograph above shows either Shishikura or Tajiri – we are not sure which, as both were students at this time. It may be Tajiri, however, who was younger than Shishikura who, in Tokyo, was a member of staff. It is taken from the class photo of 1923-24, outside the Fielding Johnson Building.
Sources:
Ancestry.com. UK, Incoming Passenger Lists, 1878-1960 [database on-line]. Provo, UT, USA: Ancestry.com Operations Inc, 2008
University of Leicester Archives, Student Record Cards (ULA/SR1/S/49 and ULA/SR1/T/2)
University of Leicester Archives, Student Register Book 1 (ULA/SR2/1)
1920s International Students
The 1920s also saw the attendance in the 1924-25 year of Pieter Willem Ter Haar. He was a part-time student born 14 April 1904 and believed to be from the Netherlands. He entered the University College in Leicester in October 1924 to study Geography for a term. During his studies, he stayed at "Heathfield" on London Road. See University of Leicester Archives, Student Record Cards, ULA/SR1/T/17 and also https://www.wiewaswie.nl/personen-zoeken/zoeken/document/srcid/40024949
1927-28 had a German (from Chemnitz) and a Dane (from Aarhus). The German man was Walter Alfred Berndt, of Westsrasse, Chemnitz. He was born 01 December 1907 and studied English in the 1927-28 session. His student record card says he had previously attended ?High Commercial School of Chemnitz, 1921-25 (ULA/SR1/B/68). The Dane was Kaia Margrethe Rasmussen from Aarbus, Denmark. She was born 02 May 1905. She entered the University College in February 1928 as a part-time student to study English. She had previously attended Copenhagen University (ULA/SR1/R/4)
1928-29 brought a French student, Lucienne Divoy. Lucienne was a part-time student who entered in February 1929 to study English. She was staying at Conway Road, Evington Road, Leicester (ULA/SR1/D/44).
In 1929-30, we had a Dutch student, yet to be identified (unless it is Kaia Rasmussen who is listed again, if she remained for three years).
More stories to come…