Further biographical information on the Faires who helped to found the University College in Leicester, researched and written by Caroline Wessel.
From the start of the proposal for a University College in Leicester the Faire family was involved. Although John and Sir Samuel Faire ran a large and prosperous boot and shoe accessories business with branch factories that took them all over the world, and supported a great number of local causes, they still found the time and energy to contribute to the new College, both financially and as Council and committee members. They both lived in imposing residences, John at Evington Hall and Samuel at Glenfield Frith Hall, but the three brothers' philanthropy was at grass roots level, serving their home town – the magistracy, church, adult education, disadvantaged children, health, and in particular the Temperance Movement – as their father had come to Leicester specifically to support the Temperance work of Thomas Cook, the Leicester travel agent pioneer.
John Edward Faire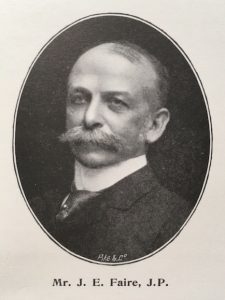 John Edward Faire (1843-1929), went into his father's factory aged 12 years, starting work at 6 am and working a ten-hour day. He rose to become senior partner and later Chairman of Faire Bros. & Co. and was remembered as a kindly and just employer. By 1917 the firm, that made and supplied shoe laces, elastic webbing and small wares for the shoe trade, had seven factories and would become the largest business of its type in the world. John Faire was a magistrate, High Sheriff of Leicestershire in 1921 and served on the Leicester Prison committee. He was also Chairman of the Leicester Provident Dispensary, that provided medicines for working people, which by 1903 had 13 local branches, serving over 48,000 members. The same year saw the opening of Leicester's Provident Dispensary Hospital that was later renamed the John Faire Hospital. John generously donated £5,000 (£60,000 in 2017) to the University College and included a bequest to it in his will.
Sir Samuel Faire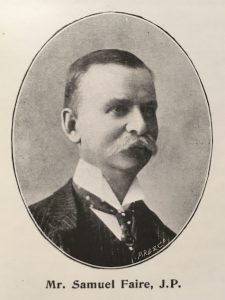 Sir Samuel Faire (1850-1930), was a borough and county Magistrate, President of the Leicestershire Humane Society, and of the Private Fire Brigades' Association, the Ragged School Mission and the county's School Swimming Association; also a representative of the Shipwrecked Fishermen Benevolent Society and Treasurer of Leicester Boy's Club. As early as 1919 he was on the Finance sub-committee that was planning the new University College's funding and in due course became a driving force as the Finance Committee Chairman. He also served on the College Council, was Vice-President of its Court of Governors, and in 1928 attended the College Officers' Conference.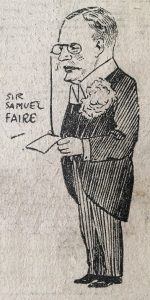 He donated £5,000 to the early appeal, made contributions for the rock garden, the purchase of a telescope and gave a donation to the Scholarship Fund. He was one of nine University College trustees appointed by Fielding Johnson, whose names are listed on a plaque that still today hangs at the entrance to the Fielding Johnson Building. In 1905 Sir Samuel was knighted 'for his social and industrial services to the City of Leicester'; he was High Sheriff of the county in  1919; and Lieut-Colonel of the Leicestershire Volunteer Reserve. Both John and Samuel made further generous gifts, such as £1,000 each, during the 1920s.
Lady Sarah Faire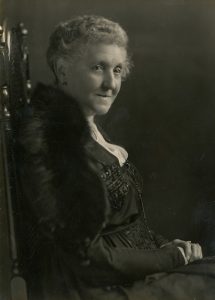 Samuel's wife, Lady Sarah Faire (1854-1925), sister of James Pickard, another early University benefactor, also gave a donation to the new College and was on its Court of Governors (1922-1925). She played a significant part in the large-scale week-long University Bazaar of 1922, serving on its ladies committee and running a stall with her daughters, while her husband and the John Faires also took part.
Sir Arthur W Faire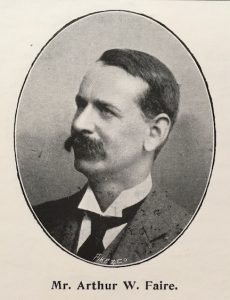 Sir Arthur (1854-1933), was a director of the Leicester boot and shoe manufacturers, Smith Faire & Ltd. He was a Magistrate, Treasurer of Leicester Working Men's College, Chairman of the Leicester Home for Boys (Waifs and Strays Society) and on its London executive; was Vice-President of St John's Ambulance Association; Churchwarden at St James the Greater; Vice-President of the local Church of England Temperance Society (and on its London Council) and Hon. Secretary of the Leicester branch of the Royal Lifeboat Institution.
Arthur was particularly closely involved with Vaughan College in its early days, supporting it from 1882, becoming its Treasurer from 1890-1927 and then Chairman of Governors when its Management Committee agreed to hand Vaughan College over to the University of Leicester. Always passionate about education, Arthur was a member of the Scheme of the Board of Education set up in 1907 and in his will he left £1,000 worth of shares to finance an adult scholarship for Vaughan College students, to enable them to progress to attend the University itself.
Clifford Storer Faire
During WW1 the Faire Bros. firm received a contract to provide one million pairs of braces for the Army, taking a large share of that specialized market away from German manufacturers. However the creation of the new University College as a Memorial to those who fell in WW1 must have been particularly poignant and meaningful to the Faire family, for both Samuel and Arthur lost sons in the conflict. Samuel's only son, Sergeant Clifford Storer Faire (1883-1916), was killed in action at the Battle of the Somme on 15 September 1916, aged 33 years, whilst serving with the New Zealand Infantry. He had moved to live there some years earlier (perhaps visiting a Faire Bros. NZ branch factory?) and had a New Zealander wife and child. Clifford was awarded the British and Victory war medals and had been recommended for a commission.
Captain Reginald Faire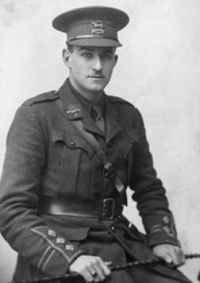 Captain Reginald Faire (1891-1915), Arthur's son, was killed during the Battle of Hohenzollern in October 1915, an onslaught that took a heavy toll on the 4th Batt. Leicestershire Regiment, when all their officers were killed and 480 other ranks were killed or wounded. Reginald was aged 24 and the date of his death was given as 11-13 October, suggesting an unidentified ending.
For the duration of the war Arthur Faire organised the motor transport of wounded soldiers arriving at Leicester station to the 5th Northern Hospital – the future site of the University. Despite the dire shortage of ambulances, through his energies he acquired a fleet of nineteen and in addition persuaded some well-to-do Leicester businessmen to add their chauffeur-driven cars to the hospital fleet. Just two months after his son's death, Arthur organised a 'thank you' tea party and concert at De Montfort Hall for 600 people. Arthur received a CBE for his WW1 ambulance services and in 1927 was knighted 'for political and public services in Leicestershire'. His brother, John Faire, had no children but he paid for the land purchase and erection of Evington war memorial.
No doubt the Faire family felt that their various contributions to the University College – justly founded as a war memorial – served also as a personal memorial for themselves.
Key Sources
Many thanks to Dr Lucy Faire for her family information and her enthusiasm.
Faire private family archives
Kelly's Directory for Leicestershire & Rutland (1912)
Allaway, A.J. (1962) Vaughan College, Leicester 1862-1962. Leicester University Press
Brown, Cynthia (2012) A Blessing to the Town: 150 Years of Vaughan College
Harrison, Louis (1919) Souvenir of the 5th Northern General Hospital
Pike, W.T. (ed.) (1902) Contemporary Biographies
Wessel, Caroline (2018) Beaumanor War & Peace
University College Annual Reports and Press Cuttings Books
Royal Leicestershire Regiment archives
London Gazette January 1928
Evington Echo (online, undated)
Leicester Mail 5 May 1923
Melton Mowbray Times 6 Oct 1916
Leicester Journal 17 Dec 1915