Biographical article on Joseph Wallis Goddard researched and written by Caroline Wessel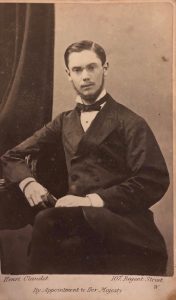 Joseph Wallis Goddard was the son of Joseph Goddard (1813-1877), a Leicester chemist who had a deep appreciation of beautiful silver and developed a new silver polish that would become famous worldwide. The recent invention of electro-plated silver had meant the harsh old-style mercurial polish damaged the thin layer of delicate silver plate, but Goddard, after many attempts, finally perfected a silver polish that would safely remove tarnish from even the thinnest plate. Inspired by the work of furniture maker, Thomas Chippendale, Goddard also developed the finest furniture polishes and at the 1885 American Exposition his products won six Gold Medals for excellence.

His son, J. Wallis Goddard, was an enthusiastic and generous early benefactor of the new University College, both financially and by serving on its various committees. He originally studied as an architect, working in London with Sir Gilbert Scott for three years, but subsequently joined his father in the Leicester business. Early on, J. Wallis showed an interest in public life – in 1886 he was on the Leicester Board of Guardians, at one time its Chairman; for six years he served on the Leicester School Board; was Chairman of the Town Building Committee; and a generous subscriber to Leicester Charity Organisation Society. He was also an active worker in the Temperance Movement, promoting the Leicester Temperance Union spearheaded by Thomas Cook, and was for many years its Treasurer. J. Wallis lived in a large house with grounds on Avenue Road, Leicester, and for a nominal sum "with good will" sold part of it to the Leicestershire Lawn Tennis Club – provided that no alcohol was consumed on the premises and no tennis was played on Sundays! He was a Liberal and Non-Conformist and contributed to the building of Stoneygate Baptist Church on London Road . In 1878 J. Wallis Goddard married Ellen Jane Viccars (1852-1916), from a prosperous local family of worsted spinners, thus bringing together two of Leicester's élite manufacturing families.
Mr Goddard's considerable wealth allowed him to give financial assistance to two other blossoming Leicester businesses, Wadkin, manufacturers of woodworking machinery, and Imperial Typewriters. Founded by John Wadkin and Densil Jarvis, Wadkin's brother-in-law, Wallis Goddard was brought in to help expand Wadkin & Co. However in 1912 Jarvis was drowned when travelling to America on the fated Titanic and Goddard found himself with no-one to run the firm. His son, (later Sir) Joseph Holland Goddard, had just settled in America, but agreed to return to England to run Wadkin. He subsequently undertook a world tour, selling his machinery all over the globe, and successfully ran the company for 48 years.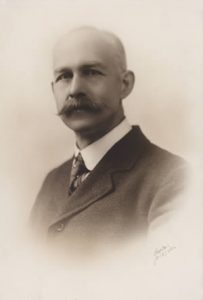 J. Wallis Goddard and his brother-in-law, William Arthur Evans, also gave finance to an American-Spanish inventor, Hidalgo Moya, who in 1902 brought his newly-invented revolutionary typewriter to England and found a Leicester partner, J.G. Chattaway. In due course this small firm, The Imperial Typewriter Co. Ltd, became one of the world's leading typewriter manufacturers, with W.H. Evans serving as its Chairman until his death in 1933. William Arthur was an early considerable benefactor of the University College, donating £500 in memory of his two brothers killed in WW1 and giving some Picture Library Equipment. His stepmother was the greatly accomplished Mrs Agnes Evans, who served on the University College's Court of Governors in 1923-24.
Joseph Wallis Goddard's enthusiastic work for the early University College was phenomenal – especially given that he was now well into his sixties. He gave two donations totalling £5,000 (in 2017=£145,288), was involved in the earliest discussions about a University College, signed the Memorandum and Articles and served on the Court, Council and various Committees. Indeed as early as 1919 at a public meeting Goddard stood up and proposed a list of appropriate names for a committee (including his own!).
From 1919-1920 he served on the Finance Committee, at a time when huge amounts of money were required to fund the work needed to convert the site from Hospital to College. In May 1920 the Leicester Daily Post expressed concern that money was not coming in very freely, and the financial outlook for the new College was uncertain.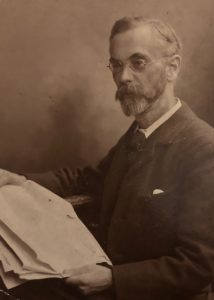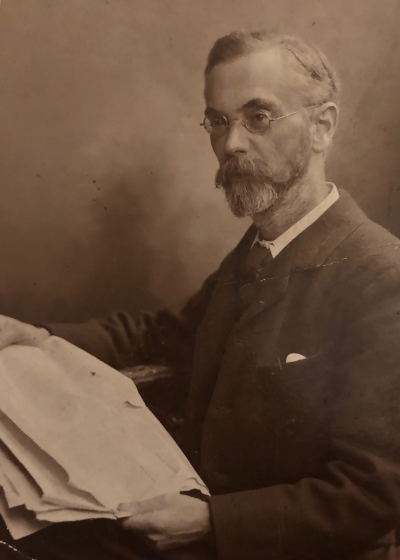 In 1921 Mr Goddard was appointed to the Buildings Committee and in 1923 took over from former Lord Mayor and architect, Mr Albert Sawday, as its Chairman. The Committee had been set up in September 1920 and local firms invited to send in their tenders. Eleven were received – the College accepted the lowest quotation of £5,389 and engaged the services of J. Bentley & Co. of Clarendon Park Road. In May 1921, the Building Committee reported that the planned work would include the creation of nineteen rooms for tutorials and administrative work; areas for staff and professors; and an assembly hall and lecture room that could accommodate 190 students – and the Buildings Committee was responsible for overseeing all this work. In June 1921 the Chairman of Finance said 'he was afraid the accounts showed that they were beginning to get into difficulties. They wanted additional annual subscriptions; that was very important considering their present financial position'.
Once the University College was opened, J. Wallis Goddard's enthusiasm did not slacken. He volunteered to serve on two additional committees, the Botanical Gardens Committee (1924-1926) and the Hostel Committee. (1924-1926). The idea of a Botanical Garden at the College site was first suggested in 1920 by Mrs Bernard Ellis, who subsequently acquired the guidance of the highly experienced Mr Horwood of Leicester Museum and – she hoped – the botanical section of the Leicester Lit and Phil. The first accommodation at the College was a Women's Hostel at Forest House (already on the site). It could take sixteen Domestic Science students and the City Education Committee would be asked to fund its alteration and equipment. In the Leicester Mail of September 1920, a Rotarian and College supporter observed that 'If they were going to have a true college … they must have a common living place for students whether or not they were engaged in the greatest diversity of subjects. By that, men's and women's mind would be broadened …'.
Joseph Wallis Goddard died on 9 April 1927 aged seventy-five. He was buried at Leicester's Welford Road cemetery with his wife who had died eleven years earlier. Perhaps Goddard's tireless effort for the University College helped to fill his lonely decade of widowhood, for he was serving on the Committees for Building, Finance, Botanical Gardens and Hostel right up till the year before he died, and was still on the Court of Governors at the time of his death. But by all accounts he possessed an extraordinary capacity for undertaking a huge work load, both in local business and at the educational establishment that he did so much to develop and support.
Key Sources
Sincere thanks to Mr Michael Goddard, son of Sir Holland Goddard, for sharing information about his grandfather, J. Wallis Goddard.
University of Leicester Archives, Press Cuttings Books Volume 1, ULA/PCB1
Boynton, Helen & Pitches, Grant (1996) Desirable Location
Burch, Brian (undated) 'The Making of a University in Leicester' ULA/D12/1
Pike, W.T. (ed.) (1902) Contemporary Biographies
Websites for Goddard's Silver Polish, Wadkin, Imperial Typewriters.
www.britannica.titanica